TRISTANO DI ROBILANT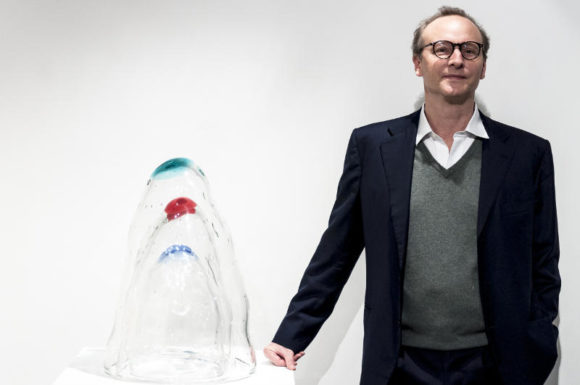 Tristano di Robilant nasce nel 1964 a Londra, è cresciuto tra l'Italia e l'Inghilterra, vive e lavora a Ripabianca (Umbria), dopo aver vissuto a lungo a Roma, Londra, e parzialmente a Murano e a New York.
Si è laureato presso la University of California di Santa Cruz dove ha anche studiato con Reyner Banham, critico e storico dell'architettura. Un'esperienza importante per la formazione artistica di Tristano, così come lo fu anche l'incontro con Cy Twombly, che conobbe da giovanissimo, e, più tardi, quello con Sol Lewitt. Tristano Di Robilant inizia la sua carriera con una personale presso la Holly Solomon Gallery di New York nel 1993. Questa prima mostra è arricchita annualmente da un lungo elenco di mostre personali, svoltasi sia in Europa che negli Stati Uniti in gallerie prestigiose come la galleria di Annina Nosei, New York; le Gallerie Bonomo, Bari/Roma; Paolo Curti & Co., Milano; lo Studio Salenbauch con la Galerie Pièce Unique, Paris; la Faggionato Gallery, London; la National Exemplar Gallery (con Enzo Cucchi), New York; il Museo Boncompagni Ludovisi, Roma, e tante altre.
Le sue opere si trovano in vari musei e collezioni private, tra cui il Maxxi di Roma, il Museo del Vetro di Murano e la Albright-Knox Art Gallery, Buffalo. Il 17 dicembre del 2016 il "Museum of Contemporary Art San Diego (CA)" dedicherà un'importante mostra personale alle opere di Tristano di Robilant.
MOSTRE
Personali
2019
Youth, Tristan Hoare, London, United Kingdom
2018
Tarquinia, The National Exemplar, New York, USA Gioventù, MUSINF, Senigallia, Italy
2017
Evento di Luce, Venice Glass Week, Museum of Palazzo Mocenigo, Italy

GLASS (with Hanno Otten), Priska Pasquer, Cologne, Germany
2016
Tristano di Robilant, Museum of Contemporary Art San Diego, USA 2014

Parapetto (with Enzo Cucchi), The National Exemplar, New York, USA 2013 Forms (with Justin Adian), The National Exemplar, New York, USA
2012
White River, Faggionato Fine Art, London, United Kingdom
2011
Galleria Bonomo, Bari, Italy
2010
Water-Point, Faggionato Fine Art, London, UK
2009
Vetro, Galleria Valentina Bonomo, Bari, Italy
2007
Tristano di Robilant, Museo Boncompagni Ludovisi, Rome, Italy
2006
Dwight Hackett Projects, Santa Fe, New Mexico
2001
Sette sculture, Paolo Curti & Co., Milan, Italy

Tristano di Robilant, Annina Nosei Gallery, New York, USA
1998
Lance Fung Gallery, New York, USA
1993
Holly Solomon Gallery, New York, USA
Collettive
2019
Il mestiere delle arti, Museo Nazionale di Ravenna, Ravenna, Italy
2018
Nuova terra antica, La Vallonea, Capalbio, Italy

Colore non Colore, Galleria Valentina Bonomo, Rome, Italy

Addition, James Barron Art, Kent, Connecticut, USA
2016
Glass, Arte del Vetro Oggi, Villa dei Vescovi, Padua, Italy
2015
Winter Solstice / Little Sun, James Barron Art, Kent, Connecticut, USA
2013
Ceramics, Rhona Hoffman Gallery, Chicago, Illinois, USA
2011
Padiglione Italia, Torino Biennale, Torino, Italy
2006
92nd Street Y Poets' Theatre, New York, USA
2002
Welcome, Palazzo delle Esposizioni, Rome, Italy
2000
Artisti Collezionisti (invited by Sol LeWitt), Palazzo delle Papesse, Siena, Italy 1996

XII Quadriennale Nazionale d'Arte, Rome, Italy
OPERE IN MUSEI E COLLEZIONI
Museum of Contemporary Art San Diego, San Diego, USA MAXXI Museum, Rome, Italy

Museo del Vetro, Murano, Italy

Albright-Knox Art Gallery, Buffalo, New York, USA

Sol LeWitt Collection, Hartford, Connecticut, USA Maslow Collection, New York, USA

Hall Winery, Napa Valley, California, USA

Mark Getty Collection, Wormsley, Oxford, UK