SOL LEWITT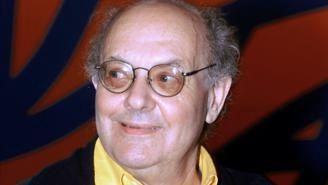 Sol LeWitt nasce nel 1928 ad Hartford (Connecticut, USA) da una famiglia di ebrei russi. Dopo le scuole superiori, nel 1949, si diploma in Arte alla Syracuse University. Nel 1953 si trasferisce a New York, dove frequenta una nota scuola per illustratori e in seguito lavora come grafico presso l'architetto cino-americano I.M. Pei.
Dopo essersi occupato per alcuni anni di editoria d'arte illustrata, inizia ad insegnare presso importanti scuole d'arte, diviene collaboratore al MoMa di New York e verso la fine degli anni Sessanta insegna alla New York University e alla School of Visual Arts.
La prima parte della sua produzione artistica degli anni Sessanta è di taglio Minimalista, incentrata sulla figura geometrica del cubo che l'artista ritiene essere "mancante di aggressività, base per ogni funzione più complessa", quindi modulo perfetto per poter sviluppare una trama infinita di possibilità e combinazioni. Nel 1967, dopo aver partecipato alla mostra tenuta al Jewish Museum di New York, stila il manifesto "Paragraphs on Conceptual Art" nel quale dichiara che il compito dell'artista è quello di formulare unicamente il progetto, mentre l'attuazione dell'opera è un'attività minore che può essere delegata ad altri. "Nell'arte concettuale l'idea o il concetto rappresentano l'aspetto più importante dell'opera. (…) Se l'artista porta avanti la sua idea e la trasforma in una forma visibile, allora tutti gli stadi del processo sono importanti. L'idea in sé, anche se non resa visibile, è un oggetto artistico quanto il prodotto finito. Tutti i passaggi che intervengono — scritti, schizzi, disegni, lavori errati, modelli, studi, pensieri, conversazioni — sono interessanti. Quelli che mostrano il processo del pensiero dell'artista sono a volte più interessanti del prodotto finale." (Sol LeWitt, "Paragraphs on Conceptual Art" in Artforum, giugno 1967).
A partire dagli anni Settanta l'artista inizia a creare i Wall Drawings, muri dipinti costituiti da moduli geometrici disposti l'uno accanto all'altro a sviluppare un disegno progettuale capace di mutare o adattarsi in base alla struttura che li accoglie.
Caratterizzano gli anni Ottanta, invece, le cosiddette Strutture Modulari e Forme Complesse, che dimostrano lo stretto legame che unisce il disegno e le forme tridimensionali e la loro natura di strumenti di misurazione dell'ambiente.
I lavori di Sol LeWitt sono stati esposti presso i più prestigiosi musei, spazi pubblici e privati del mondo: al Museum of Modern Art di New York, alla Tate Gallery di Londra, alla Kunsthalle di Berna, allo Stedelijk Museum di Amsterdam, al Geementemuseum dell'Aja, alla Kunsthalle di Berna, presso l'Ateneo di Wadsworth (Hartford), al Castello di Rivoli Museo d'Arte Contemporanea di Torino, a Palazzo delle Esposizioni di Roma e presso Documenta 4 e Documenta 5, oltre che alla Biennale di Venezia e alla Rassegna Minimal Art I al Musèe d'Art Contemporain di Bordeaux.
Nel 2000 il San Francisco Museum of Modern Art gli dedica una delle più importanti e complete retrospettive, mostra itinerante ospitata successivamente al Museum of Contemporary Art di Chicago e al Whitney Museum of American Art di New York.
MOSTRE:
2013
Wood, Metal, Paint: Sculpture from the Fisher Collection – Cantor Arts Center at Stanford University, Stanford, CA

Sol LeWitt – Wall Drawings from 1968 to 2007 – Centre Pompidou-Metz, Metz

Celebrating 20 Years of Neptunstrasse 42 – Annemarie Verna Gallery, Zurich

Cut Torn Folded Ripped – James Cohan Gallery – New York, New York City, NY

For the Time Being – Kunsthalle Bielefeld, Bielefeld

Sammlung Grauwinkel – 1982–2012 30 Jahre Konkrete Kunst – Vasarely Museum, Budapest

Concrete Block Structure – Rhona Hoffman Gallery, Chicago, IL

CONTINENTAL DRIFT – Konzeptkunst in Kanada: Die 1960er und 70er Jahre – Badischer Kunstverein, Karlsruh
2012
Sol Lewitt' – Museo D'Arte Contemporanea Donna Regina – MADRE, Naples
2011
Spazio, MAXXI Rom, Italy

Von Carl Andre bis Gregor Schneider. Dorothee und Konrad Fischer: Archiv einer Haltung, Museum Kurhaus Kleve
2010
Sol LeWitt, Complex Forms Structure VI, Rhona Hoffman Gallery, Chicago, IL (solo)

Sol LeWitt, Wall Drawings, Konrad Fischer Galerie, Düsseldorf, Germany (solo)

Sol LeWitt: Gouache on Paper 1987-2005, LA Louver Gallery, Venice, CA (solo)
2008–2009
Sol Lewitt, Paula Cooper Gallery, New York, NY (solo)

Artists Rooms: Sol Lewitt, Tate Liverpool, Liverpool, UK (solo)

Made in Munich, Haus der Kunst, Munich, Germany

Minimal is More, Sammlung Lafrenz, Gemeentemuseum Den Haag, The Netherlands

1968. Die große Unschuld, Kunsthalle, Bielefeld, Germany

Born in the street – Graffiti, Fondation Cartier pour l'Art Contemporain, Paris, France

Focus: Sol LeWitt, Museum of Modern Art, New York, NY (solo)
2008
Sol LeWitt: A Wall Drawing Retrospective, MASS MoCA, North Adams, MA (solo)

Estampes, Galerie Lelong, Paris, France (solo)

Sol LeWitt, The Barbara Krakow Gallery, Boston, MA (solo)

Sol LeWitt – Monumental Drawings, Galleria Nazionale d'Arte Moderna, Rome, Italy (solo)

Sol LeWitt: Color and Line, Reproduced", Smart Museum of Art, Chicago, IL (solo)

Sol LeWitt, Annemarie Verna Gallery, Zurich, Switzerland (solo)

Paperweight, Mehdi Chouakri, Berlin, Germany

The Skat Players, Vilma Gold, London, UK
2007
Sol LeWitt, Paula Cooper Gallery, New York, NY (solo)

Summer Show, James Cohan Gallery, New York, NY

The Happiness of Objects, Sculpute Center, Long Island, NY
2006
Sol LeWitt, Lisson Gallery, London, UK (solo)

Drawing through it, David Nolan Gallery, New York, NY

Winter Group Show, The Barbara Krakow Gallery, Boston, MA
2005
Sol LeWitt new works, Galerie Meert Rihoux, Brussels, Belgium (solo)

Sol LeWitt, Drawings for Projects, Donald Young Gallery, Chicago, IL


Sol LeWitt on the Roof: Splotches, Whirls, and Twirls, The Iris B. and Gerald Cantor Roof Garden, Metropolitan Museum of Art, New York, NY

(solo)

New Wall Drawings, Alfonso Artiaco, Naples, Italy (solo)

Sol LeWitt Gouaches, Paula Cooper Gallery, New York, NY (solo)

Sol LeWitt Sculpture and Drawings, Margo Leavin Gallery, Los Angeles, CA (solo)


Looking at Words, Andrea Rosen Gallery, New York, NY
2004
Sol Le Witt: Photography, Kamera, Graz, Austria (solo)

Sol Le Witt: New York, Lisson Gallery, London, UK (solo)

Sol LeWitt, Fraenkel Gallery, San Francisco, CA (solo)

The Last Picture Show, UCLA Hammer Museum, Los Angeles, CA


Das MoMA in Berlin, Neue Nationalgalerie, Berlin, Germany
2003
Sol Le Witt, Galerie Konrad Fischer, Düsseldorf, Germany (solo)


Sol Le Witt, Chemnitz, Kunstsammlungen, Germany (solo)
2002
Sol LeWitt: new work, Alfonso Artiaco, Pozzuoli/Napoli, Italy (solo)

Sol LeWitt: Wall Drawings y Gouaches, Galería Juana de Aizpuru, Madrid, Spain (solo)

Sol LeWitt. Gouaches, Merce Cunningham Foundation, Paula Cooper Gallery, New York, NY (solo)

Sol LeWitt, The Nordic Watercolour Museum, Skärhamn, Sweden (solo)


Sol LeWitt. Sculptures and Gouaches", Barbara Krakow Gallery, Boston, MA (solo)
2001
Galerie Konrad Fischer, Düsseldorf, Germany (solo)

La Caja Negra, Madrid, Spain (solo)

Galerie Thomas Schulte, Berlin, Germany (solo)

Incomplete Open Cubes, Wadsworth Atheneum, Hartford, CT (solo)

Sol LeWitt – Wall Drawings", Irish Museum of Modern Art, Dublin, Ireland (solo)

Sol LeWitt: Wall Drawing, Williams College Museum of Art, Washington D.C. (solo)

Margo Leavin Gallery, Los Angeles, CA (solo)


Regen Projects, Los Angeles, CA (solo)
2000
Sol LeWitt, Retrospective, Museum of Modern Art, San Francisco, CA; Museum of Contemporary Art, Chicago, IL; Whitney Museum of American Art, New York, NY (solo)
1999
Kunst-Werke, Berlin, Germany (solo)

Sol Lewitt, Galerie Meert Rihoux, Brussels, Belgium (solo)

Sol Lewitt, New Gouaches", Galerie Yvon Lambert, Paris, France (solo)

Institute for Contemporary Art, Boston, MA (solo)

Walls Drawing, Institute of Contemporary Art, Chicago, IL (solo)

Sol LeWitt, Paula Cooper Gallery, New York, NY (solo)

Sol LeWitt, Rhona Hoffman Gallery, Chicago, IL (solo)


Sol LeWitt – Bands of Color, Museum of Contemporary Art, Chicago, IL (solo)
1998
New Wall Drawings, Pace Wildenstein, Los Angeles, CA (solo)

Lisson Gallery, London, UK (solo)


Sol Lewitt (& Luca Pancrazzi), Galleria Continua, San Gimignano, Italy (solo)
1997
Paula Cooper Gallery, New York, NY (solo)


Ace Gallery, New York, NY (solo

)
1996
Ace Gallery, New York, NY (solo)


Prints 1970-95, Museum of Modern Art, New York, NY (solo)

1995

Gagosian Gallery, New York, NY (solo)

Working Drawings, John Weber Gallery, New York, NY (solo)


New Gouaches, PaceWildenstein, Los Angeles, CA (solo)
1994
Sol Lewitt, Drawings, 1958-1992, Haags Gemeentemuseum, The Hague, The Netherlands; Westfälisches Landesmuseum, Münster, Germany;

Henry Moore Sculpture Trust and Leeds City Art Gallery, Leeds, UK; Centre Georges Pompidou, Paris, France;Musée des Beaux-Arts de

Tourcoing, Tourcoing, France; Musée de Picardie, Amiens, France;Fundació Tapiès, Barcelona, Spain; Museum of Fine Arts, Boston, MA (solo)

Structures 1962 – 1992 and Systeme in Buchform, Neues Museum Weserburg, Bremen, Germany (solo)


Recent Works on Paper, Annemarie Verna Galerie, Zurich, Switzerland (solo)
1993
Sol LeWitt Structures, Villa Stuck, Munich, Germany (solo)
1992
Sol Le Witt: Drawings 1958-1992, Gemeentemuseum, The Hague, The Netherlands (solo)

Project Room, John Weber Gallery, New York, NY (solo)

New Wall Drawings", Quint Krichman Projects at the Project Space, La Jolla Gallery, La Jolla, CA (solo)


Sol LeWitt Drawings, Kunsthalle Bern, Switzerland (solo)
1991
New Structures, Lisson Gallery, London, UK (solo)

Wall Drawings and Gouaches, Galerie Ressle, Stockholm, Denmark (solo)


New Structures, Donald Young Gallery, Chicago, IL (solo)

Wall Drawings No. 44, 45, 46 – 1970, Yvon Lambert Gallery, Paris, France (solo)


Five Geometric Structures and their combinations, Graeme Murray Gallery,, Edinburgh, Scotland (solo)
1990
New Wall Drawings, John Weber Gallery, New York, NY (solo)

Large-Scale Concrete Block Sculpture, Max Protetch Gallery, New York, NY (solo)

Wall Drawings and Gouaches, Donald Young Gallery, Chicago, IL (solo)

New Structures and Gouaches, Galerie Pierre Huber, Geneva, Switzerland (solo)


New Tables. Collaboration, Stephen Schermeyer, New York, NY (solo)
1989
Sol Le Witt: Wall Drawings 1984-1988, Kunsthalle, Berne, Switzerland (solo)

Sol LeWitt: Incomplete Open Cubes, Galerie Le Gall Peyroulet, Paris, France (solo)

Sol LeWitt: Sculture e Gouaches recenti, Galleria Bonomo, Bari, Italy (solo)

Sol LeWitt: A Wall Drawing Exhibition, Lisson Gallery, London, UK (solo)


Sculpture & Drawings, Daniel Weinberg Gallery, Santa Monica, CA (solo)
1988
Sol LeWitt Prints, Walker Art Center, Minneapolis, MN (solo)

Sol LeWitt Books, Minnesota Center for Books Arts, Minneapolis, MN (solo)

Sol LeWitt: New Structures, John Weber Gallery, New York, NY (solo)

Sol LeWitt: Structures", Galerie Peter Pakesch, Vienna, Austria (solo)

Sol LeWitt: 12 Recent Works on Paper, Lisson Gallery, London, UK (solo)

Sol LeWitt: Wall Drawings, Des Moines Art Center, Des Moines, IA (solo)


Sol LeWitt: Structures", Massimo Minini, Brescia, Italy (solo)
1987
ARC,Musee d'Art Moderne de la Ville de Paris, Paris, France (solo)

Double Pyramids, John Weber Gallery, New York, NY (solo)

The Cleveland Museum of Art, OH (solo)

Hirshorn Museum and Sculpture Garden, Washington DC (solo)


Galerie Yvon Lambert, Paris, France (solo)
1986
Sol LeWitt: Prints 1970-1986, The Tate Gallery, London, UK (solo)
1985
Light Gallery, New York, NY (solo)

Wall Drawings and Structures, Daniel Weinberg Gallery, Los Angeles, CA (solo)


Pyramid: A Wall Drawing by Sol LeWitt, The Brooklyn Museum, New York, NY (solo)
1984
Stedelijk Museum, Amsterdam, The Netherlands (solo)

Books 1968-83, Gallery A, Amsterdam, The Netherlands (solo)


Wall Drawings, Gewad, Gent, Belgium (solo)
1983
Drawings, Watercolours and Prints, Lisson Gallery, London, UK (solo)

Sol LeWitt: Three Portfolios, Brooke Alexander Gallery, New York, NY (solo)

Sol LeWitt: Star Prints, Matrix Gallery, University Art Museum, Berkeley, CA (solo)


Sol LeWitt, Cy Twombly": New Works, Ugo Ferranti Gallery, Rome, Italy
1982
Young Hoffman Gallery, Chicago, IL (solo)

John Weber Gallery, New York, NY(solo)


Barbara Toll Fine Arts, New York, NY(solo)
1981
Y

von Lambert Gallery, Paris, France (solo)

Larry Gagosioan Gallery, Venice, Italy; Los Angeles, CA (solo)

David Bellman Gallery, Toronto, Canada (solo)

Mercer Union Art Gallery, Toronto, Canada (solo)

Max Protech Gallery, New York, NY (solo)

Konrad Fischer Gallery, Düsseldorf, Germany (solo)


Sol LeWitt Wall Drawings 1968-81, Wadsworth, Atheneum, Hartford, CT (solo)

Real Art Ways, Hartford, CT (solo)


Paula Cooper, New York, NY (solo)
1980
Venice, Biennale, Venice, Italy

John Weber Gallery, New York, NY (solo)

Grids and Colour", Rudiger Schottle, Munich, Germany (solo)


Photo Grids, Protech-McIntosh, Washington DC (solo)
1979
Geometric Structures, Lisson Gallery, London, UK (solo)

Yvon Lambert Gallery, Paris, France (solo)

Margo Leavin Gallery, Los Angeles, CA (solo)


Rosa Esman Gallery, New York, NY (solo)
1978
The Museum of Modern Art,New York, NY (solo)


Retrospective Exhibition, Museum of Modern Art, New York, NY; Krannert Museum, University of Illinois, Champaign, IL; Museum of

Contemporary Art, Chicago, IL; La Jolla Museum of Contemporary Art, CA (solo)
1977
John Weber Gallery, New York, NY (solo)

Lisson Gallery, London, UK (solo)

Geometric Figures, Konrad Fischer Gallery, Düsseldorf, Germany (solo)

Prints, Brooklyn Museum, New York, NY (solo)


Prints and Drawings, John Weber Gallery, New York, NY (solo)
1976
Incomplete Open Cubes, Kolnischer Kunstverein, Cologne, Germany (solo)

Wall Drawings, Claire Copley Gallery, Los Angeles, CA (solo)


Geometric Figures, Galerie MTL, Brussels, Belgium (solo)
1975
Wall Drawings, Drawings and Incomplete Open Cubes, Daniel Weinberg Gallery, Düsseldorf, Germany (solo)

Incomplete Open Cubes, Art & Project, Amsterdam, The Netherlands; Scottish National Gallery of Modern Art, Edinburgh, Scotland (solo)

Konrad Fischer Gallery, Düsseldorf, Germany (solo)


Wall Drawings, Israel Museum, Jerusalem (solo)
1974
Galerie Yvon Lambert, Paris, France (solo)

Lisson Gallery, London, UK (solo)

Max Protech Gallery, Washington, DC (solo)

Palais des Beaux Arts, Brussels, Belgium (solo)

Prints, Stedelijk Museum, Amsterdam, The Netherlands (solo)

Ace Gallery, Los Angeles, CA (solo)

Ace Gallery, Los Angeles, CA (solo)


Fifty Drawings 1964-74, Vancouver Art Gallery, Vancouver, Canada, Art Gallery of Ontario, Toronto, Canada; Everson Museum of Art, Syracuse, NY; High Museum of Art, Atlanta, GA; San Francisco Museum of Art, CA; Mint Museum of Art, Charlotte, NC; Johnson Museum of Art, Cornell University, Ithaca, NY (solo)
1973
Galerie Yvon Lambert, Paris, France (solo)

John Weber Gallery, New York, NY (solo)

Rosa Esman Gallery, New York, NY (solo)

Lisson Gallery, London, UK (solo)


Portland Center for the Visual Arts, Portland, OR (solo)
1972
Venice, Biennale, Venice, Italy

Hayden Gallery, MIT, Cambridge, MA (solo)

Harkus-Krakow Gallery, Boston, MA (solo)


Dayton Art Institute, Dayton, OH (solo)
1971
Protech-Rivkin Gallery, Washington DC (solo)


Drawings and Prints, Dwan Gallery, New York, NY (solo)

Konrad Fischer Gallery, Düsseldorf, Germany (solo)


Lisson Gallery, London, UK (solo)
1970
Wisconsin State University, River Falls, WI (solo)

Dwan Gallery, New York, NY (solo)

Galerie Yvon Lambert, Paris, France (solo)

Pasadena Art Museum, Pasadena, CA (solo)

Galeria Sperone, Torino, Italy (solo)


Sculptures and Wall Drawings, John Weber Gallery, New York, NY (solo)
1968
Venice, Biennale, Venice, Italy


Documenta 4, Kassel, Germany

Daniels Gallery, New York, NY (solo)

Galerie Bischofberger, Zurich, Switzerland (solo)

Heiner Friedrich Gallery, Munich, Germany (solo)

Ace Gallery, Los Angeles, CA (solo)


Museum Haus Lange, Krefeld, Germany (solo)
1967
Dwan Gallery, New York, NY (solo)
1966
Dwan Gallery, New York, NY (solo)

1965

Daniels Gallery, New York, NY (solo)
1964
Museum of Contemporary Crafts, New York, NY
1963
St. Mark's Church, New York, NY
OPERE IN COLLEZIONI E MUSEI:
The Museum of Modern Art, New York, NY
The Whitney Museum, New York, NY
The Art Institute of Chicago, Chicago, IL
The Houston Museum of Art, Houston ,TX
La Jolla Museum of Contemporary Art, La Jolla, CA
The San Francisco Museum of Contemporary Art, San Francisco, CA
The Philadelphia Museum of Art, Philadelphia, PA
The Detroit Institute of Art, Detroit, MI
The Wadsworth Atheneum, Hartford, CT
The New Britain Museum of Art, New Britain, CT
The Brooklyn Museum of Art, New York, NY
The Tate Gallery, London, UK
The Stedelijk Museum, Amsterdam, The Netherlands
Musee National d'Art Moderne, Centre Georges Pompidou, Paris, France
Kunstmuseum, Basel, Switzerland
National Gallery of Scotland, Edinburgh, Scotland
Musee d'Art et d'Histoire, Geneva, Switzerland
The Australian National Gallery, Canberra, Australia
INK, Zurich, Switzerland
The Israel Museum, Jerusalem, Israel
Art Gallery of Ontario, Toronto, Canada
Grenoble Museum, Grenoble, France
The Walker Art Center, Minneapolis, MN
The Albright Knox Art Gallery, Buffalo, NY
The Minneapolis Institute of Art, Minneapolis, MN
The St Louis Art Museum, St. Louis, MO
The Baltimore Museum of Art, Baltimore, MD
The Dayton Art Institute, Dayton, OH
Weatherspoon Art Gallery, Greensboro, NC
Smith College Art Gallery, Northampton, MA
Worcester Museum of Art, Worcester, MA
Museum Moderner Kunst, Vienna, Austria
Albertina, Vienna, Austria
Hirshhorn Museum and Sculpture Garden, Washington, DC
The Akron Art Museum, Akron, OH
The Dallas Museum of Art, Dallas, TX
The Los Angeles Museum of Contemporary Art, Los Angeles, CA
The Los Angeles County Museum of Art, Los Angeles, CA
The Metropolitan Museum of Art, New York, NY
The Carnegie Museum of Art, Pittsburgh, PA
The High Museum of Art, Atlanta, GA