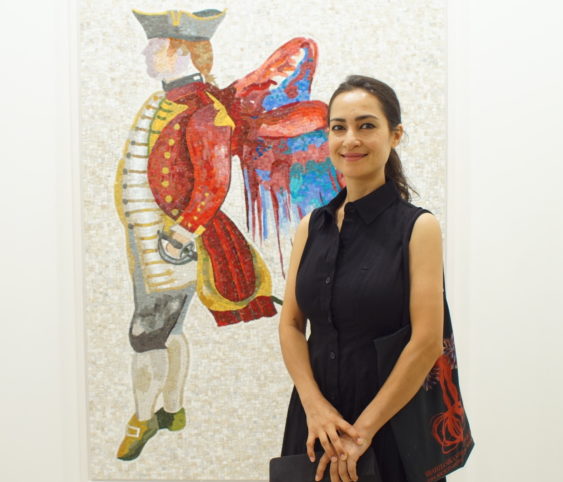 Shahzia Sikander è nata nel 1969 a Lahore, in Pakistan.
Le principali mostre personali dell'opera di Sikander includono: Parallax, Honolulu Museum of Art, Honolulu (2017); Estasi come sublime, cuore come vettore, MAXXI | Museo nazionale delle arti del XXI secolo, Roma (2016); Parallax, Museo Guggenheim, Bilbao (2015); Parallax, Bildmuseet Umea, Svezia (2014); Fondazione Linda Pace, San Antonio (2012-13); Kogod Courtyard presso lo Smithsonian American Art Museum, Washington DC (2012); Transformations, Museum of Contemporary Art Tokyo (2010); Para / Site, Hong Kong (2009); Ikon Gallery, Birmingham (2008); daadgalerie, Berlin (2008); Irish Museum of Modern Art, Dublino (2007); Museum of Contemporary Art, Sydney (2007); Miami Art Museum, Miami (2005); Aldrich Contemporary Art Museum, Ridgefield (2004); The San Diego Museum of Art, San Diego (2004); Hirshhorn Museum and Sculpture Garden, Washington D.C (2000), Whitney Museum of American Art, New York (1999) e la Renaissance Society, Chicago (1998). Le principali mostre collettive includono: Karachi Biennale, Karachi (2017); Performing Time, Leo Xu Projects, Shanghai (2016); Se dovessi vivere qui …, The 5th Auckland Triennial, Auckland (2013); Sharjah Biennale 11, Sharjah Art Foundation, Sharjah (2013); Guangzhou Triennial, Guangzhou (2012); Donne in mezzo: Asian Women Artists 1984-2012, Fukuoka Asian Art Museum, Fukuoka (2012); Patria o Libertad! On Patriotism, Immigration and Populism, Museum of Contemporary Canadian Art, Toronto (2011); Future Pass: dall'Asia al mondo, 54a Biennale di Venezia, Venezia (2011); Gifts of the Sultan: The Arts of Giving at the Islamic Courts, Museo d'arte della Contea di Los Angeles, Los Angeles; Museum of Fine Arts, Houston (2011); "Miniature" monumentali: dipinti su larga scala dall'India, Philadelphia Museum of Art, Philadelphia (2010); Un'immagine può nasconderne un'altra: Arcimboldo-Dali-Raetz, Galeries Nationals du Grand Palais, Parigi (2009); Ordine. Desiderio. Leggero. : An Exhibition of Contemporary Drawings, Irish Museum of Modern Art, Dublino (2008); Take 2: Women Revisiting Art History, SFMoMA, San Francisco (2007).
Sikander ha ricevuto numerosi premi, borse di studio e borse di studio, tra cui Shahneela e Farhan Faruqui Popular Choice Art Prize alla Karachi Biennale (2017), Inaugural Medal of Art, Dipartimento di Stato degli Stati Uniti (2012), John D. e Catherine T Premio MacArthur Foundation Achievement (2006-2011); il National Pride of Honor del governo pakistano (2005), il premio Joan Mitchell (1998-999) e il premio della fondazione Tiffany (1997). Nel 2006 Sikander è stato nominato Young Global Leader dal World Economic Forum.
Shahzia Sikander vive e lavora a New York.