MOHAMED LARBI RAHHALI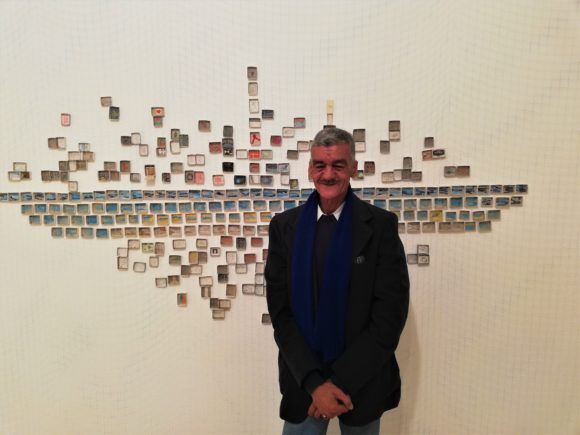 Mohamed Larbi Rahhali (Marocco, 1956) vive e lavora a Tetouan in Marocco. 
Animando le forme della realtà Mohamed Larbi Rahhali propone una riflessione prospettica sul tempo che, anche se strettamente personale, si estende globalmente. Il quotidiano diviene un'esperienza coerente con la creazione artistica grazie all'uso fantasioso di oggetti trovati e dispositivi concepiti per evocare le relazioni reali tra uomo e Terra. Unendo vocaboli concettuali, scientifici ed artigianali l'artista proietta lo spettatore in un mondo coreografico, che si muove fra l'ordine ed il caos, fra le memorie personali e quelle collettive.
Larbi Rahhali ha un percorso professionale variegato come artista visivo, realizzatore di set cinematografici ed insegnante presso l'Institut des Beaux Arts. Inoltre la relazione intima che ha con il mare spesso ricorrente nei suoi lavori è dovuta alla professione di pescatore.
Le sue mostre collettive includono Elsewhere, New Museum, New York (2015), Sous nos yeux part.3, MACBA, Barcellona, ​​Spagna (2015), Sous nos yeux Part.2, Kunsthalle centre d'art contemporain, Mulhouse, Francia (2013 ), Sentences on the bank and other activities, Darat Al Funun, Aman, Giordania (2010). Ha partecipato al seminario 3RS Maroc guidato da Seamus Farrell e organizzato da L'appartement 22 tra Rabat, Fes e Tetouan (2007). Mind Moves Matter presentata a L'appartement 22 è la sua prima mostra personale.
MOSTRE
Personali
2018
Fellowship Pernod – Ricard, Villa Vassilieff, Paris France

Microcosms, VOICE gallery, Marrakech, Morocco

Residency Al Maqam, Marrakech Morocco
2017
Galeria Saida, Tetouan, Morocco
2015
Appartement 22, Rabat, Morocco
2010
Espace 295 x 190, Martil, Morocco
Collettive
2018
Variation within Repetition, M'Barek Bouhchichi & Mohamed Larbi Rahhali, Galleria Valentina Bonomo, Rome, Italy
2017
Galerie Kassimi, Fez, Morocco
2016
Musée Mohamed VI d'art contemporain, Rabat, Morocco

Sous nos yeux part.3, exhibition and conference at CICC, Centre International de la culture contemporaine, San Sebastian, Spain

Merchants of Dreams, Brandt 13 and Viborg Kunsthal, Denmark
2015
Nel Mezzo del mezzo, Arte contemporanea nel Mediterraneo, Sicilia, Italy
2014
Here and Elsewhere, New Museum, New York, USA

MACBA, Barcelon, Spain
2013
Kunsthalle Mulhouse, France
2011
Darat Al Founoune, Amman, Jordania