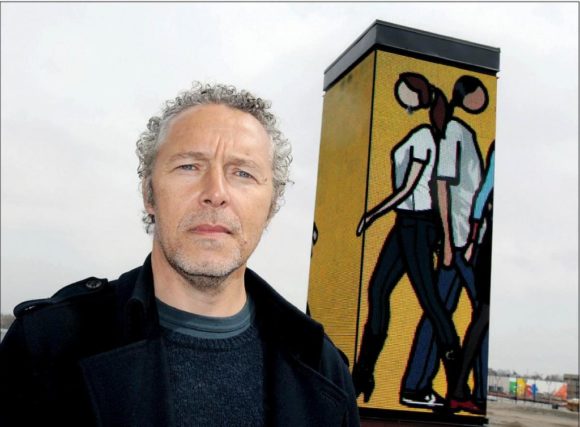 Julian Opie è nato nel 1958 a Londra e si è laureato nel 1983 alla Goldsmiths School of Art, studente di Michael Craig-Martin. Vive e lavora a Londra.
Opie ha esposto ampiamente nel Regno Unito e a livello internazionale, con importanti mostre in musei come: Kunstverein di Colonia, Hayward Gallery e ICA a Londra, Lehnbachhaus a Monaco di Baviera, K21 a Dusseldorf, MAK a Vienna, Mito Tower in Giappone, CAC a Malaga e IVAM a Valencia, MoCAK a Cracovia, Tidehalle a Helsinki e Fosun Foundation a Shanghai, Suwon IPark Museum of Art in Corea.
Opie ha presentato numerosi progetti pubblici in città di tutto il mondo, in particolare: Dentsu Building a Tokyo (2002), City Hall Park a New York (2004), Mori Building, Omotesando Hill in Giappone (2006), Fiume Vltava a Praga (2007), Phoenix Art Museum USA (2007), Dublin City Gallery in Irlanda (2008), Seoul Square in Corea del Sud (2009), Regent's Place a Londra (2011), Calgary, Canada, The Lindo Wing, St Mary's Hospital, Londra e più recentemente installazioni permanenti presso SMETS in Belgio, PKZ a Zurigo, Arendt e Medernach a Lussemburgo, Taipei, Taiwan e Tower 535, Causeway Bay a Hong Kong.
Le opere di Opie sono presenti in molte collezioni d'arte pubbliche, tra cui Tate, British Museum, Victoria & Albert, Arts Council, British Council e National Portrait Gallery a Londra, The Museum of Modern Art a New York, ICA a Boston, USA, Essl Collection in Vienna, IVAM in Spagna, Israel Museum a Gerusalemme e Takamatsu City Museum of Art in Giappone.