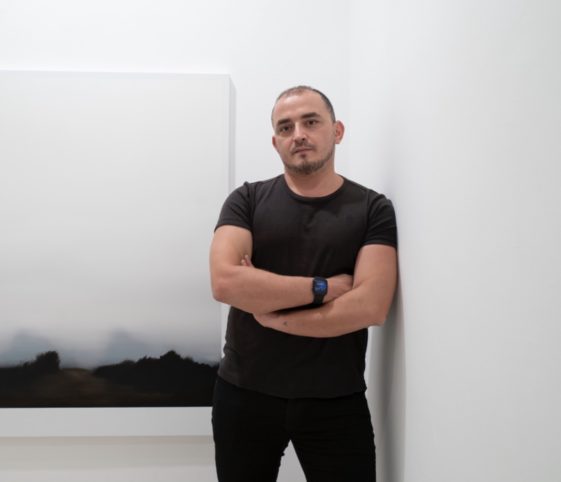 George Stamatakis è nato a Heraklion, Creta, nel 1979, si è diplomato in Pittura all'Accademia di Belle Arti di Atene nel 2019, durante i suoi studi ha partecipato al programma di scambio internazionale con l'Accademia di Belle Arti di Tokyo, nel laboratorio di scultura di Shinji Ohmaki.
Stamatakis debutta con la sua prima mostra nel teatro "Simeio" nel 2015. Da allora ha preso parte all'ottava e alla nona Biennale di scuole di belle arti in Grecia, tenutesi nel Museo statale di arte contemporanea e nella Nikos Kessanlis Exhibition Hall, come membro dell'Elective Affinities educational program di "Documenta 14", di cui lui fece parte come giovane artista. Ha partecipato a varie mostre collettive come: "ART VIRUS" Gallery Giant's Garden (Sud Korea), "Aura" Yeni Tzami museum (Grecia), Words that transform, vibrate and glow – Charles Smith Gallery (UK), Coffins of Black, Coffins of Luck – Ileana Tounta Contemporary Art Center (Athens), "Dialogues : Between tangible and intangible" (France), Curved Arrows – Kunstraum Am Schauplatz (Austria), Nobody ́s Place/Nowhere ́s Map – GEIDAI (Japan), The Storytelling – TUYAP (Turkey), "Integral II" – Ileana Tounta Contemporary Art Center (Greece), "Rebetika" at the Tsitsanis Museum (Greece) and many more.
Satamatakis è in oltre laureato in Economia e Marketing all'università dell'Attica dell'ovest e una laurea in Giornalismo. Sin dal 2016 ha rappresentato l'ASFA all'università di Atene di Business ed Economia un programma di educazione artistica come ricercatore.
Nel 2020, il progetto di Stamatakis "The color of phenomenon" è stato premiato dal Arts Council di Tokyo, Tokyo Metropolitan Foundation of History and Culture, per essere poi presentato al Tokyo Tokyo Festival (TTF), che si è tenuto in contemporanea alle olimpiadi di Tokyo 2020.