JANNIS KOUNELLIS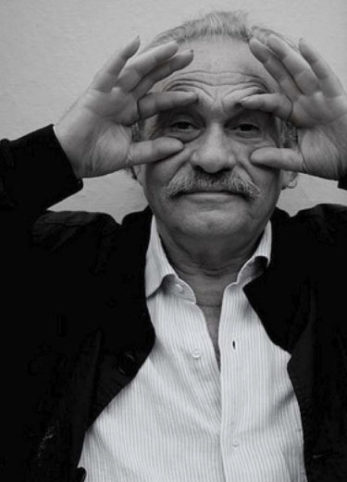 Jannis Kounellis (Pireo, Grecia 1936 – Roma 2017) è esponente di primo piano di quella che il critico Germano Celant ha definito "arte povera".
Ventenne, lascia la Grecia e si trasferisce a Roma per studiare presso l'Accademia di Belle Arti sotto la guida di Toti Scialoja al quale deve l'influenza dell'espressionismo astratto che insieme all'arte informale costituisce il binomio fondamentale dal quale prende le mosse il suo percorso creativo.
Esordisce nel 1960 allestendo sempre a Roma la sua prima mostra personale alla galleria "La Tartaruga". Rispetto ai suoi maestri, Kounellis mostra subito un'urgenza comunicativa molto forte che lo porta al rifiuto di prospettive individualistiche, estetizzanti e decadenti e all'esaltazione del valore pubblico, collettivo del linguaggio artistico. Nelle sue prime opere, infatti, dipinge dei segni tipografici su sfondo chiaro che alludono all'invenzione di un nuovo ordine per un linguaggio frantumato, polverizzato.
Risalgono al 1967 le prime mostre ideologicamente vicine al movimento dell'arte povera nelle quali l'uso di prodotti e materiali di uso comune suggeriscono per l'arte una funzione radicalmente creativa, mitica, priva di concessioni alla mera rappresentazione. Evidenti sono anche i riferimenti alla grecità delle sue origini. Le sue installazioni diventano delle vere e proprie scenografie che occupano fisicamente la galleria e circondano lo spettatore rendendolo attore protagonista in uno spazio che inizia anche a riempirsi di animali vivi, contrapposti alle geometrie costruite con materiali che evocano la produzione industriale. Nella "Margherita di fuoco" appare appunto anche il fuoco, elemento mitico e simbolico per eccellenza, generato però da una bombola a cannello.
Nel 1969 l'installazione diviene vera e propria performance coi "Cavalli" legati alle pareti della galleria "L'Attico" di Fabio Sargentini, in un sontuoso scontro ideale tra natura e cultura nel quale il ruolo dell'artista è ridotto al livello minimo di un'operosità sostanzialmente manuale, quasi da uomo di fatica. Col passaggio agli anni '70 l'entusiasmo volitivo di Kounellis si carica di una pesantezza diversa, frutto del disincanto e della frustrazione di fronte al fallimento delle potenzialità innovative dell'arte povera, inghiottita suo malgrado dalle dinamiche commerciali della società dei consumi, presidiate dagli spazi tradizionali di fruizione come musei e gallerie. Tale sentimento viene espresso dalla famosa porta chiusa con delle pietre presentata per la prima volta a San Benedetto del Tronto e quindi nel corso degli anni, con significative variazioni strutturali dense di significati poetici, a Roma, Mönchengladbach, Baden-Baden, Londra, Colonia.
Nel 1972 Kounellis partecipa per la prima volta alla Biennale di Venezia.
Gli anni dell'amarezza proseguono con installazioni nelle quali alla vitalità del fuoco subentra l'oscura presenza della fuliggine mentre gli animali vivi cedono il passo a quelli imbalsamati. Il culmine di questo processo è forse il grandioso lavoro presentato all'Espai Poublenou di Barcellona nel 1989, caratterizzato da quarti di bue appena macellati fissati mediante ganci a lastre metalliche e illuminati da lanterne a olio. Negli anni più recenti l'arte di Kounellis si è fatta virtuosamente manieristica e ha ripreso temi e suggestioni che l'avevano caratterizzata in precedenza con uno spirito più meditativo, capace di interpretare con una rinnovata consapevolezza la primitiva propensione all'enfasi monumentale. Esempi di questa nuova direzione di ricerca sono l'installazione del 1995 in piazza Plebiscito, a Napoli, e quindi le mostre in Messico (1999), Argentina (2000) e Uruguay (2001). Nel 2002, l'artista ripropone l'installazione dei cavalli alla Whitechapel di Londra e, poco dopo, alla Galleria Nazionale d'Arte Moderna di Roma costruisce un enorme labirinto di lamiera lungo il quale pone, quasi fossero altrettanti approdi, gli elementi tradizionali della sua arte, come le "carboniere", le "cotoniere", i sacchi di iuta e i cumuli di pietre ("Atto unico"). Nel 2007 lavora alla realizzazione del 383° festino di Santa Rosalia a Palermo disegnando il carro trionfale della Santa. Nel 2019 Germano Celant ha curato la prima mostra retrospettiva dedicata a Kounellis presso la Fondazione Prada a Venezia.
MOSTRE:
Jannis Kounellis, Centro de Arte Contemporáneo, Wifredo Lam, La Habana, Cuba
Relampagos Sobre Mexico, Museo Espacio, Aguascalientes, MX
Jannis Kounellis, Monnaie de Paris, Paris, FR
Jannis Kounellis, Centro Arti Visive Pescheria, Pesaro, Italy
Dodecafonia, Gavin Brown, Rome, IT
Jannis Kounellis, MAC USP – Museum of Contemporary Art, University of São Paulo, BR
Sant'Antonio Abate e la Fòcara 2015, Novoli, IT
Jannis Kounellis. New Works, Galleri Bo Bjerggaard, Copenhagen, DK

Galleria Christian Stein, Milano, IT

Re di Picche, Galleria Continua, San Gimignano, IT
Solo Show, Galleria Continua, Les Moulins, FR
Almine Rech Gallery, Bruxelles

Jannis Kounellis. "La luna e il vestito": un libro d'artista, Studio Eos-Libri d'Artista, Roma

Casamadre Arte Contemporanea, Napoli

All'Arte! Progetto Kounellis, Atrio Clinica Mangiagalli, Milano

Todi Festival 2014, Sezione Arti Visive, Palazzo del Vignola, Todi, a cura di Zerynthia

Associazione per l'arte contemporanea e National Centre for Contemporary Arts della  Federazione Russa

Jannis Kounellis. Un'opera da ricordare/A work to Remind, Chiesa di San Paolo, Cattarov  (Montenegro)

Galleria Lauba, Zagabria

Musée d'art Moderne et Contemporain de Saint-Étienne Métropole, Saint-Étienne

Galerie Lelong, Parigi

Dal profondo. Jannis Kounellis, terzo Evento Mozart a cura di Bruno Corà, Palazzo Antinori

Sprovieri Gallery, Londra

Corsini Serristori, Firenze
Galeriartist, Istanbul

Cheim & Read, New York

Giacomo Guidi Arte Contemporanea, Palazzo Sforza Cesarini, Roma

Galería Kewenig – Oratorio de Sant Feliu, Palma di Maiorca

Fondazione Volume!, Roma

Kounellis Trieste, Salone degli Incanti-Ex Pescheria, Trieste

Mestna galerija Ljubljana, Lubiana

Jannis Kounellis in Korea, Wooson Gallery, Daegou
Jannis Kounellis – Artist Rooms, Tramway, Glasgow
Jannis Kounellis "Atto Unico", Arsenal, Nizhny Novgorod

Galleria Giorgio Persano, Torino

Museum of Cycladic Art, Stathatos Mansion, Atene

Kunstmuseum Kloster Unser Lieben Frauen, Magdeburg

Kamel Mennour, Parigi

Jannis Kounellis. Senza titolo, Museo Regionale d'Arte Moderna e Contemporanea Palazzo

Belmonte Riso, Palermo

Blain/Southern, Berlino

Parasol Unit, Foundation for contemporary art, Londra

Jannis Kounellis im Museum am Dom, Museum am Dom, Würzburg
Jannis Kounellis. Artist Rooms, MIMA Middlesbrough Institute of Modern Art, Middlesbrough

Galleria e Auditorium di San Fedele, Milano, in occasione dell'evento Apocalisse. Apocalisse  dei Maya o Apocalisse di San Giovanni?
Kounellis – feu / contre-feu – Klein, Galerie Lelong, Paris, FR

Kewenig Galerie, Cologne, DE

Memoriale dal Convento: Kounellis, Convento dei Servi di Maria, Monteciccardo, IT (cat)

Cortonantiquaria, 49° Mostra Mercato Nazionale d'Antiquariato, Palazzo Vagnotti, Cortona, IT

Kounellis: Danza della Morte, Schinkel Pavillon, Berlin, DE
Jannis Kounellis: Early paintings, Galerie Karsten Greve, Paris, FR

Museum Kurhaus, Cleves, FR (cat)
 Galeriartist, Istanbul, TR

Jannis Kounellis: S. T., 4° Biennale di Arte Contemporanea, Red October – Chocolate Hall, Moscow, RU; travelled to Arsenal, Nizhny Novgorod, RU
Translating China – Solo Exhibition of Jannis Kounellis, Today Art Museum, Beijing, CN (cat)

Cattedra episcopale per il Duomo di Reggio Emilia, Reggio Emilia, IT
Ambika P3, Londra, presented by Galleria Sprovieri, London, UK

Teatro Margherita e Piazza del Ferrarese, Bari, IT

Bernier/ Eliades Gallery, Athens, GR
Installazione presso la chiesa SS, Apostoli, Rome, IT


Galleria Fumagalli, Bergamo, IT


Ex oratorio di San Lupo, Museo Adriano Bernareggi, Bergamo, IT 

Galerie Elisabeth & Klaus Thoman, Innsbruck, AT

La Libertà o Morte – Freedom or Death, Heart Herning Museum of Contemporary Art, Herning, DK 

Galleria Alfonso Artiaco, Naples, IT

Galeria Nieves Fernandez, Madrid, ES

Matadero Madrid, Madrid, ES 

Fundación Marcelino Botín, Santander, ES

Jannis Kounellis in der Neuen Nationalgalerie, Neue Nationalgalerie, Staatliche Museen zu Berlin, Berlin, DE
Fundación Caixa Galicia, Santiago de Compostela, ES 

Galeria Carles Taché, Barcelona, ES 

Galleria Christian Stein, Milan, IT 

Château de Chaumont-sur-Loire, Chaumont-sur-Loire, FR 

Galleria Progetti, Rio de Janeiro, BR 

Galerie Lelong, Zurich, CH
Galeria de arte contemporaneo Gacma, Malaga, ES


Jannis Kounellis Mattia Preti, La rosa tatuata, Gallerja Roma, Rome, ES
Jannis Kounellis, Catrame, Galerie Lelong, Paris, FR

Pescali & Sprovieri, London, UK,
Carro realizzato in occasione del Festino in onore di S. Rosalia, Palermo, IT

Galleria di Franca Mancini, Pesaro, IT 

Kounellis, Jaffa Port, Main Gate Hangar, Jaffa, GR 
Jannis Kounellis: La storia e il presente, Galleria Nazionale di Palazzo Arnone, Cosenza, IT

Museo Archeologico Nazionale della Sibaritide, Sibari, IT

Correspondances: Jean-François Millet Jannis Kounellis, Musée d'Orsay, Paris, FR
Jannis Kounellis: Das Thomas-Evangelium, Galerie Dittmar, Berlin, DE
Sipario: La porta dell'orto monastico di Santa Croce in Gerusalemme, Orto monastico di Santa Croce in Gerusalemme, Rome, IT 
Viva Santa Rosalia, Auditorium Parco della Musica, Rome, IT
Galeria Nieves Fernandez, Madrid, ES

Kounellis al Portico d'Ottavia, Valentina Bonomo artecontemporanea, Rome, IT


Halle Verrière, Meisenthal, FR
MADRE Museo d'Arte Contemporanea Donnaregina, Naples, IT; travelled to Kunstmuseum Liechtenstein, Vaduz, LI

Jannis Kounellis: Atto Unico, Fondazione Arnaldo Pomodoro, Milan, IT 
Hommage an Jannis Kounellis, Art Cologne, Koelmesse, Colongne, DE

Cheim & Read, New York, US

Kounellis: Edizioni 1972 – 2006, Galleria dell'Oca, Rome, IT
Edicola Notte, Rome, IT

Jannis Kounellis: Santa Fe, Isola Madre, Isole Borromeo, Lake Maggiore, Stresa, IT

Edinburgh College of Art and Scottish National Gallery of Modern Art, Edinburgh, UK

Hôtel des Arts, Centre méditerranéen d'art du Conseil général du Var, Toulon, FR

Galerie Karsten Greve, Paris, FR


Jannis Kounellis: Opus One, Albertina, Vienna, AT; travelled to Musée d'Art Moderne de Saint-Etienne
Métropole, Saint-Etienne, FR

Teatro Attis, Athens, GR
Jannis Kounellis: New Works, Sprovieri, London, UK
Terre di confine: Con-fine dell'Arte, Palazzo Lantieri, Gorizia, IT 

Transart 04, Festival di arte e musica, Officina FS, Bolzano, IT

Kounellis in Sarajevo, Vijecnica/National Library, Sarajevo, BA Megaron Mousikis – The  Athens Concert Hall, Athens, GR

Galerie Karsten Greve, Cologne, DEModern Art Oxford, Oxford, UK 
Jannis Kounellis: Installation, Galleri Bo Bjerggaard, Copenhagen, DK 
Jannis Kounellis i Sct: Johannes Kirke' Sct, Johannes Kirkens Kirketarn, Herning, DK 

Galleria Christian Stein, Milan, IT


Torrione Passari, Molfetta, IT 

Monastero Mechitarista, Isola di San Lazzaro degli Armeni, Venice, IT 

Aula del Palazzo dell'Unesco, Paris, FR
Kunstraum Innsbruck, Innsbruck, AT 

Galleria Fumagalli, Bergamo, IT

Galerie Lelong, Paris, FR; travelled to Galerie Forsblom, Helsinki, FI; Galería Carles Taché, Barcelona, ES 

Inaugurazione della stazione della metropolitana di piazza Dante, Naples, IT

Jannis Kounellis: Senza Titolo…, Hallen für neue Kunst, Schaffhausen, CHSMAK Stedelijk Museum voor Actuele Kunst, Ghent, BE 
Jannis Kounellis: Atto Unico, Galleria Nazionale d'Arte Moderna, Rome, IT
Museo Nacional de Artes Visuales, Montevideo, UY

Jannis Kounellis: Bilder 1958-1968, Objekte 1968-2000, Galerie Karsten Greve, Cologne, DE

Centro per l'Arte Contemporanea Luigi Pecci, Prato, IT 

Bottini dell'Olio, Livorno, IT 

Jannis Kounellis: Albatros & The Gospel According to Thomas, Galerie Jule Kewenig, Frechen-Bachem, Kunst-Station Sankt Peter, Cologne, DE; travelled to Diözesanmuseum Freising, Freising, DE 
Jannis Kounellis: Peintures et Objects, Galerie Karsten Greve, Paris, FR
Jannis Kounellis: Ein Saal für die Sammlung, Kunstmuseum Winterthur, Winterthur, CH

Castello Colonna, Genazzano, IT

Museo Nacional de Bellas Artes, Buenos Aires, AR

Reti, via S. Nicola de' Cesarini, Rome, IT 

 Galleria Christian Stein, Milan, IT
Galerie Karsten Greve, Cologne, DE

Jannis Kounellis: Il Sarcofago degli Sposi, MAK Österreichisches Museum für angewandte Kunst, Vienna, AT 

Chiesa di San Augustin – UNAM, Mexico City, MX 
Atelier del Bosco di Villa Medici, Rome, IT 

Appel: Atelier del Bosco di Villa Medici, Galleria No Code, Bologna, IT

Ace Gallery, New York, US


Galerie Lelong, Paris; travelled to Galerie Forsblom, Helsinki, FI, Galería Carles Taché, Barcelona 

Scultura permanente in via Ponte di Tappia, Naples
Rechts- Sozial- und Wirtschaftswissenschaftliche Fakultät, Karl- Franzens- Universität, Graz, AT

Kounellis: Die Front, das Denken, der Sturm, Museum Ludwig in der Halle Kalk, Cologne, DE
Galleria del Gruppo Credito Valtellinese "Refettorio delle Stelline", Milan, IT 

Galleria Alfonso Artiaco, Pozzuoli, Naples, IT


Ace Gallery, Los Angeles, US
Galerija Loza, Koper, SI

Galleria Christian Stein, Milan, IT

Jannis Kounellis: Neue Arbeiten, Galerie Bernd Klüser, MC 

Castelluccio di Pienza – La Foce, IT 

Museo Nacional Centro de Arte Reina Sofía, Madrid, ES 

Piazza del Plebiscito, Naples 
Monumento alla memoria di Concetto Marchesi, Egidio Meneghetti ed Ezio Franceschini, Palazzo del Bo,Università degli Studi, Padua, IT 
"Salara" Galleria d'Arte Moderna, Bologna, IT 

Chateau de Plieux, Plieux, FR (cat)

Galerie Jule Kewenig, Frechen-Bachem, DE

Jannis Kounellis. Die eiserne Runde, Hamburger Kunsthalle, Hamburg, DE
Galerie Lelong, Paris, FRCargo Ionion, Pireo, Athens, GR 

Jean Bernier Gallery, Athens, GRAnthony d'Offay Gallery, London
Galerie Konrad Fischer, Düsseldorf, DE
Kounellis: Fumo di pietra, Galerie Lelong, Paris, FR; travelled to Galerie Lelong, Zurich, CH (cat)

Belvedere, Giardini reali del Castello, Praga, Warsaw, PO

Real Albergo dei Poveri, Palermo, IT

Jannis Kounellis: Lineare Notturno, Kunsthalle, Recklinghausen, DE 

Galerìa Estiarte, Madrid, ES


Kounellis: Esposizione di paesaggi invernali, Palazzo Fabroni, Pistoia, IT 
No and no, but, after all yes, why not, Marian Goodman Gallery, New York, US 

Galleria Lucio Amelio s.r.l., Naples, IT 

Galleria Christian Stein, Milan, IT
Padiglione d'Arte Contemporanea, Milan, IT 

Micce: Come diviene ciò che è, Jannis Kounellis, Mercatello sul Metauro, Urbino, IT 
The Henry Moore Sculpture Trust Studio at Dean Clough, Halifax, UK 

Jannis Kounellis: Frammenti di memoria, Kestner-Gesellschaft, Hanover, DE; travelled to Kunstmuseum, Winterthur, CH 

Casa Centrale degli Artisti, Nuova Tret'jakov, Moscow, RU

Galerie Lelong, Zurich, CH 

Sinagoga Stommeln, Pulheim, DE
Anthony d'Offay Gallery, London, UK

Opera, Associazione culturale per le arti visive, Perugia, IT

Margo Leavin Gallery, Los Angeles, US

Jannis Kounellis: Via del Mare, Stedelijk Museum, Amsterdam, NL
La stanza vede, Haags Gemeentemuseum, The Hague, NL; travelled to The Henry Moore Sculpture Trust at Leeds City Art Gallery, Leeds, UK; Arnolfini Gallery, Bristol, UK; ICA, London, UK; Fundaciò Tapiés, Barcelona, ES
Donald Young Gallery, Chicago, Illinois, US

Studio d'Arte Barnabò, Venice, IT


Galerie Lelong, Paris, FR

Espai Poblenou, Barcelona, ES 

Ameliobrachot Pièce Unique, Paris, FR 

Museo di Capodimonte, Naples, IT 
Galleria Christian Stein, Milan, IT


Galerie Sparta-Petit, Chagny, FR

Mary Boone Gallery, New York, US

Castello di Rivoli, Museo d'Arte Contemporanea, Rivoli, Turin, IT

Galerie Konrad Fischer, Düsseldorf, DE
Sonnabend Gallery, New York, US

Galleria Sprovieri, Rome, IT

Artsite Gallery at Walcot Chapel, Bath, UK 

ICA Institute of Contemporary Arts, Nagoya, JP

Musée d'Art Contemporain, Montreal, CA
Anthony d'Offay Gallery, London, UK

Galleria Ugo Ferranti, Rome, IT


Galerie Konrad Fischer, Düsseldorf, DE

Jannis Kounellis: A Retrospective in Five Locations, Museum of Contemporary Art, Chicago, US
Jean Bernier Gallery, Athens, GRcapcMusée d'Art Contemporain, Bordeaux, FR

Galleria Christian Stein, Milan, IT Städtische Galerie im Lenbachhaus, MC

Galerie Liliane et Michel Durand-Dessert, Paris, FR
Museum Haus Esters, Krefeld, DE

Galerie Schellmann & Klüser, MC
Galleria Lucio Amelio, Naples, IT

Sonnabend Gallery, New York, US

Kounellis: Frammenti teatrali 1968-1984, Galleria Franca Mancini, Pesaro, IT 

Galleria Ugo Ferranti, Rome, IT
Galerie Konrad Fischer, Düsseldorf, DE


Jannis Kounellis: Schwarz/Weiss Arbeiten 1970-1980, Galerie Art in Progress, MC

Sonnabend Gallery, New York, US

Galerie Liliane et Michel Durand-Dessert, Paris, FR

Musei Comunali, Rimini, IT

Galleria Christian Stein, Turin, IT
Galleria Anna d'Ascanio, Rome, IT
Galerie Karsten Greve, Cologne, DE

Obra Social, Caja  de Pensions, Madrid, ES

Stedelijk Van Abbemuseum, Eindhoven, NL

Whitechapel Art Gallery, London, UK

Staatliche Kunsthalle, Baden-Baden, DE

Galleria Salvatore Ala, Milan, IT

Galerie Schellmann & Klüser, MC

Galerie Liliane et Michel Durand-Dessert, Paris, FR
Galerie Konrad Fischer, Düsseldorf, DE

Galleria Lucio Amelio, Naples, IT

Sonnabend Gallery, New York, US
A

Musée d'Art Moderne de la Ville de Paris, Paris, FR 

Galleria Mario Diacono, Rome, IT

Galleria Marilena Bonomo, Spoleto, IT

Galerie Annemarie Verna, Zurich, CH
Jean & Karen Bernier Gallery, Athes, GR 

V Premio "Pino Pascali": Jannis Kounellis,  Pinacoteca Provinciale, Bari, IT (cat)

Galerie Konrad Fischer, Düsseldorf, DE

Museum Folkwang, Essen, DE 

Salvatore Ala Gallery, New York, US

Jannis Kounellis: Hotel Louisiane, Galleria Christian Stein, Turin, IT
Galleria Mario Diacono, Bologna, IT 

Städtisches Museum Abteiberg, Mönchengladbach, DE 

Galleria La Tartaruga, Rome, IT
Jean & Karen Bernier Gallery, Athens, GR

Kunstmuseum, Lucerne, CH 

Villa Pignatelli, Naples, IT

Galleria Pio Monti, Rome, IT

Museum Boymans-van Beuningen, Rotterdam, NL

Studio Tucci Russo, Turin, IT
Galleria L'Attico, Hotel della Lunetta, Rome, IT

Galerie Art in Progress, Düsseldorf, DE

Galleria Salvatore Ala, Milan, IT
Galerie Rudolf Zwirner, Cologne, DE

Galleria Area, Florence, IT

Galleria Lucio Amelio, Naples, IT

Studio d'Arte Contemporanea, Rome, IT

Galleria Mario Pieroni, Pescara, IT

Galleria La Salita, Rome, IT
Galleria Forma, Genoa, IT

Sonnabend Gallery, New York, US

Galleria L'Attico, Rome, IT

Galleria del Cortile, Rome, IT

Galerie Folker Skulima, Berlin, DE

Galleria Christian Stein, Turin, IT

Galleria La Salita, Rome, IT

Sonnabend Gallery, Paris, FR
Sonnabend Gallery, New York, US

Incontri Internazionali d'Arte, Palazzo Taverna, Rome, IT 
Galleria Gian Enzo Sperone, Turin, IT

Galleria L'Attico, Rome, IT

Galerie Folker Skulima, Berlin, DE

Modern Art Agency, Naples, IT

Informazione sulla presenza italiana, Incontri Internazionali d'Arte, Palazzo Taverna, Rome, IT
Galleria L'Attico, Rome, IT

Galerie Iolas, Paris, FR

Modern Art Agency, Naples, It
Galleria Iolas, Milan, IT

Galleria Carello, Naples, IT

Galleria Gian Enzo Sperone, Turin, IT
Galleria L'Attico, Rome, IT

Galleria L'Attico, Rome, IT

Galleria dell'Ariete, Milan, IT

Kounellis: Il Giardino; I Giuochi, Galleria L'Attico, Rome, IT
L'alfabeto, Galleria Arco di Alibert, Rome, IT

Galleria La Tartaruga, Rome, IT

Galleria La Tartaruga, Rome, IT
Collettive selezionate
Dalla caverna alla luna. Viaggio dentro la collezione del Centro Pecci, Centro per l'Arte Contemporanea Luigi Pecci, Prato, Italy
Roma anni '60: No – Pop, Galleria Erica Fiorentini Arte Contemporanea, Rome, Ital
YTALIA Energia Pensiero Bellezza. Tutto è connesso, Forte di Belvedere, Florence, Italy
Animalia, Piomonti Arte Contemporanea, Rome, Italy
Nero su Nero. Da Fontana e Kounellis a Galliani, Villa Bardini, Florence, Italy
È solo un inizio. 1968, Galleria Nazionale, Roma, Italy
Arte Povera, Hauser & Wirth, New York, US
Art at the Turn of the Century, Centro Botín Centre, Santander, Spain
Io non amo la natura, Complesso Monumentale di San Francesco, Cuneo, Italy
4,543 Milliards. La question de la matière, CAPC Musée d'Art Contemporain de Bordeaux, Bordeaux, France
ROMA POP CITY 60-67, Macro, Rome, Italy
Par tibi, Roma, nihil, Palatino, Rome, Italy
L'Inarchiviabile / The Unarchivable. Italia anni '70, Frigoriferi Milanesi, FM Centro per l'Arte Contemporanea, Milan, Italy
IMAGINE. Nuove immagini nell'arte italiana 1960-1969, Collezione Peggy Guggenheim, Venice, Italy
Roma Arte Aperta. Il Paradiso Inclinato, Palazzo della Regia Dogana, Rome, Italy
Joseph Kosuth / Jannis Kounellis – JK2, Atrio Comunale di Recanati, Recanati, Italy
Jannis Kounellis Francesco Arena, Palazzo Baronale, Novoli
Schlaflos – Das Bett in Geschichte und Gegenwartkunst, 21er Haus des Belvedere, Vienna
Books Beyond Artists: Words and Images, Ivorypress Space, Madrid
Private View 2, Städtischen Galerie "Lovis-Kabinett", Villingen-Schwenningen
Arts & Foods. Rituali dal 1851, La Triennale di Milano, Milano
Accellerazione, Herbert Foundation, Gent
Codice Italia, Biennale di Venezia, LVI Esposizione Internazionale d'Arte, Padiglione Italia,  Venezia
Mafai – Kounellis. La libertà del pittore, Museo Carlo Bilotti – Aranciera di Villa  Borghese,  Roma 
Arte Povera. Giovanni Anselmo, Jannis Kounellis, Mario Merz, Giuseppe Penone, Konrad  Fischer Galerie, Berlino
A Thousand Doors, The Gennadius Library and Gardens, Atene, in collaborazione con la  Whitechapel Gallery, Londra
Shades of Black on White, Galleri Bo Bjerggaard, Copenhagen
Within/Beyond Borders. The Collection of the European Investment Bank, Museu do Dinheiro  do Banco de Portugal, Lisbona
Stanze#1. Giovanni Anselmo Jannis Kounellis, Riso, Museo d'Arte Contemporanea della  Sicilia, Palermo
Art or Sound, Fondazione Prada, Ca' Corner della Regina, Venezia
Intime Convinction. Oeuvres de la Collection de Giuliana et Tommaso Setari, Château de  Villeneuve – Fondation Émile Hugues, Vence
Couleurs Contemporaines, Collection du Conseil Gènéral du Var,  Centre d'Art, Châteauvert
On the Road, Palacio de Gelmírez, Santiago de Compostela
Incisioni dalla stamperia d'arte Albicocco. La matrice incontra l'anima, Museo Fabbrile e  delle Coltellerie, Maniago (Pordenone)
Limites sem limites. Desnhos e traços da Arte Povera, Fundação Iberê Camargo, Porto Alegre
El arte de nuestro tiempo. Obras maestras de las Colecciones Guggenheim, Museo Guggenheim, Bilbao
Atmosphères Contemporaines, Chapelle de l'Observance, Draguignan
Food. Produire, Manger, Consommer, Musée des civilisations de l'Europe et de la  Méditerranée MuCEM, Marsiglia
Lucio Amelio. Dalla Modern Art Agency alla Genesi di Terrae Motus (1965-1982). Documenti, opere, una storia…, Fondazione Donnaregina per le arti contemporanee – MADRE  Museo d'arte contemporanea Donnaregina, Napoli
PPP Una polemica inversa. Omaggio a Pier Paolo Pasolini Istituto Italiano di Cultura, Bruxelles
Ici, ailleurs, Friche La Belle de Mai, Marsiglia
Che fare? Luciano Fabro Jannis Kounellis Mario Merz, Galerie Lelong, New York
A Roma. Obras de la Colección Farnesina, Museo de Arte Carrillo Gil, Città del Messico
Evento Mozart: Kounellis Bassiri, Biblioteca Angelica, Salone Vanvitelliano, Roma
Fragile?, Fondazione Cini, Isola di San Giorgio Maggiore, Venezia
Bookhouse. La forma del libro, Museo MARCA, Catanzaro
Post-classici. La ripresa dell'antico nell'arte contemporanea italiana, Foro romano e Palatino, Roma
When attitudes become form. Bern 1969/Venice 2013, Fondazione Prada, Ca' Corner della  Regina, Venezia
Rêver le quotidien. Manuel de survie à l'ordinaire, Collection FRAC Nord-Pas de Calais, La ì Brasserie, Centre d'Art Contemporain, Foncquevillers
Opening, Casamadre Arte Contemporanea, Napoli
Gegenwelten, Kunsthistorischen Museum Schloss Ambras, Innsbruck
Collezione Permanente/1, inaugurazione CaMusAC, Cassino Museo Arte Contemporanea,  Cassino
Wunderkammer. Arte, Natura, Meraviglia ieri e oggi, Gallerie d'Italia e Museo Poldi Pezzoli,  Milano 
Wall Works, Nationalgalerie im Hamburger Bahnhof – Museum für Gegenwart, Berlino
Jannis Kounellis Santiago Sierra, Prometeo Gallery, Milano
Compagni di strada, Fondazione Museo Pino Pascali, Polignano a Mare
Anni 70. Arte a Roma, Palazzo delle Esposizioni, Roma
Asche und Gold. Eine Weltenreise, Marta Herford, Herford (Germania)
Art and Press. Kunst. Wahrheit. Wirklichkeit, Martin-Gropius-Bau, Berlino
Lux Perpetua, Galerie Kamel Mennour, Parigi
Beaufort04, Triennal of Contemporary Art by the Sea, De Panne, Koksijde-Oostduinkerke, Nieuwpoort, Middelkerke-Westende, Ostenda, Bredene, De Haan-Wenduine,Blankenberge,Zeebrugge
Arte Povera in città, GAMeC Galleria d'Arte Moderna e Contemporanea, Bergamo
Arte torna Arte, Galleria dell'Accademia, Firenze
Det mentale landskab – Paesaggi della mente, Bornholms Kunstmuseum, Gudhjem
Arte Povera aus der Sammlung des Kunstmuseum Liechtenstein, Neues Museum Weimar, Weimar
Arte Povera. Der grosse Aufbruch, Kunstmuseum Basel, Basilea
L'homme de Vitruve, Centre d'art contemporain d'Ivry – Le Crédac, Ivry-sur-Seine
QUI arte contemporanea 1966-1977, Galleria Nazionale d'Arte Moderna e contemporanea, Roma
PPP Una polemica inversa. Omaggio a Pier Paolo Pasolini, Palazzo Incontro, Roma 
Ritratto di una città. Arte a Roma 1960 – 2001, MACRO Museo d'Arte Contemporanea, Roma
About Caravaggio. Visioni e illusioni contemporanee, Scuderie Aldobrandini, Museo Tuscolano, Frascati
Giovanni Anselmo, Jannis Kounellis, Giuseppe Penone, Emilio Prini. Recent works, Sprovieri, Londra
The riches of Arte Povera. Italian avant-garde from the 1970s, Kröller-Müller Museum, Otterlo
Food. Une réflexion sur la Terre nourricière, l'agriculture et l'alimentation, Musée Ariana, Ginevra
Che fare? Arte povera. Die historischen Jahre, Lentos Kunstmuseum, Linz
Monanism, Inaugural exhibition, Museum of Old and New Art, Berriedale, Hobart, Tasmania, AU
Viaggiando, Galleria Christian Stein, Milan, IT
Zettels Traum: Die Zeichnungssammlung Bernd und Verena Klüser, Von der Heydt Museum, Wuppertal, DE
Der heilige Augenblick – Il Santo Momento, Museum am Dom, Würzburg, DE

New Paradises, Bundesgartenschau 2011, Basilika Sankt Kastor e altri siti, a cura del Ludwig Museum, Coblenza, DE
The Last Grand Tour – Modern Travelers to Greece, Museum of Cycladic Art, Nicholas & Dolly Goulandris Foundation, Athens, GR
Alla luce della Croce: Arte antica e contemporanea a confronto, Fondazione Cardinale 
Arte Povera a Mosca: Opere dalla collezione del Castello di Rivoli, MAMM Multimedia Art Museum, Moscow, RU
Tra – Edge of Becoming, Palazzo Fortuny, Venice, IT 
Biennale Arte 2011 – 54: Esposizione Internazionale d'Arte, Venice, IT 
Lo splendore della Verità la bellezza della Carità, Omaggio degli artisti a Benedetto XVI per il 60° di sacerdozio, Aula Paolo VI, Vatican City, IT 
Construyendo una Colección, Fundación Botín, Santander, ES 
Afinidad & Diferencia, Pelaires Centre Cultural Contemporani, Palma de Mallorca, ES

1961-2011 Cinquant'anni di arte in Italia dalle collezioni GNAM e Terrae Motus, Reggia di Caserta, Caserta, IT
Mostra collettiva, Galleria Progetti, Rio de Janeiro, BR
Arte contemporanea in Italia, Galleria Cardi, Pietrasanta, IT
Dublin Contemporary 2011: Terrible Beauty: Art, Crisis, Change & The Office of Non-Compliance, Earlsfort Terrace Complex and other sites, Dublin, IE
Within/Beyond Borders: The Collection of the European Bank of Investment, Byzantine and Christian Museum, Athens, GR 
The 4th Guangzhou Triennal: Meta-question: Back to the Museum Per Se, Guangdong Museum of Art, Guangzhou, CN 
Arte povera 1968, MAMbo – Museo d'Arte Moderna di Bologna, Bologna, IT 
Schönheit und Vergänglichkeit, Essl Museum, Klosterneuburg, AT
Omaggio all'Arte Povera: Jannis Kounellis, Giuseppe Penone e Gilberto 
Zorio, MAXXI Museo nazionale delle arti del XXI secolo, Rome, IT 
Arte Povera International, Castello di Rivoli Museo d'Arte Contemporanea, Rivoli, IT
Arte Povera 1967-2011, Triennale di Milano, Milan, IT 
Inaugurazione dell'esposizione permanente del Museu Coleção Berardo (1960-2010), Museu Colecção Berardo Arte Moderna e Contemporânea, Lisbon, PT

Arte Povera più Azioni Povere 1968, Museo MADRE Museo d'Arte Contemporanea Donnaregina, Naples, IT
Secondo Novecento, Polo Museale – Museo del Presente, Rende, IT
2004 – 2011 7 anni – 7 scultori, Galleria Il Ponte, Florence, IT
Arte Povera in Teatro, Teatro Margherita, Bari, IT 
5X25: 25 anni con la Nuova Pesa. Anniversario d'arte e d i amicizia in cinque mostre, La Nuova Pesa Centro per l'Arte Contemporanea, Rome, IT

Arte povera alla GNAM, GNAM Galleria Nazionale d'Arte Moderna, Rome, IT 
Il Grande Gioco: Forme d'arte in Italia 1947-1989, Rotonda di via Besana, Milan, IT
Il Grande Gioco: Forme d'arte in Italia 1947-1989, Museo d'arte contemporanea, Lissone, IT
Il Grande Gioco: Forme d'arte in Italia 1947-1989, Galleria d'Arte Moderna e Contemporanea, Bergamo, IT
Isole mai trovate – Islands never found, Palazzo Ducale, Genoa, IT; travelled to Greek State Museum of Contemporary Art, Salonicco, GR; Musée d'Art Moderne, St-Etienne, FR 
Il Premio Pino Pascali dal 1969 al 1979, Fondazione Museo Pino Pascali, Polignano a Mare, IT
Che fare? Arte povera: Die Historischen Jahre, Kunstmuseum Liechtenstein, Vaduz, LI
Con la probabilidad de ser visto, Museu d'Art Contemporani MACBA, Barcelona, ES
Con la probabilidad de ser visto, Museum Kurhaus, Cleves, DE
Outside the box: Edition Jacob Samuel, 1988-2010, Hammer Museum, Los Angeles, US
Anteprima dei nuovi spazi e nuovo ciclo espositivo del MACRO, MACRO Museo d'Arte Contemporanea Roma, Rome, IT
De Matisse à Barceló: La Collection Lambert en Avignon, Château de Villeneuve, Fondation Emile Hugues, Vence, FR
Ergo, material: Arte povera, MuAC Museo Universitario Arte Contemporáneo, Mexico City, MX
Walk of Art, "St. Moritz Art Masters", Paracelsus Gebäude e altri siti, St. Moritz, CH
Negotiations – The Second Today's Documents 2010, Today Art Museum, Halls no. 1 & no. 2, Shuimu Art Space, Pifo New Art Gallery e Beijing Commune, Beijing, CN
Collezione Christian Stein: Una storia dell'arte italiana/ A History of Italian Art, IVAM Institut Valencià d'Art Modern, Valencia, IT; travelled to Museo Cantonale d'Arte, Lugano, CH

Che cento fiori sboccino…, La Nuova Pesa – Centro per l'Arte Contermporanea, Rome, IT

Socle du Monde Biennale Between Cultures, Heart Herning Museum of Contemporary Art, Herning, DK
Je crois aux miracles, Collection Lambert en Avignon, Musée d'art contemporain, Avignon, FR
Drei: Das Triptychon in der Moderne, Kunstmuseum, Stuttgart, DE
Sicilia 1968/2008: Lo spirito del tempo, Riso, Museo d'Arte Contemporanea della Sicilia, Palermo, IT
Costanti del classico nell'arte del XX e XXI secolo, Fondazione Puglisi Cosentino, Palazzo Valle, Catania, IT 
Mythologies, Haunch of Venison, Burlington Gardens, London, UK
A Bartolo, Chiostro del Bramante, Sala delle Capriate, Rome, IT 
1999/ 2009: regard sur la collection du Conseil Général du Var, Hôtel des Arts, Centre d'Art du Conseil Général du Var, Toulon, FR
Imperium: Kapitel I ¡Que viva Mexico!, Galeria Hilario Galguera, Leipzig, DE
Jannis Kounellis & Sean Scully: Markierungen, 401 Contemporary, Berlin, DE
I classici del contemporaneo, Museo Nazionale di Villa Pisani, Stra, IT
In-finitum, Palazzo Fortuny, Venice, IT 
Passaggi in Sicilia: La collezione di Riso e oltre, Palazzo Riso e Cavallerizza di Palazzo Sambuca, Palermo, IT 
Aigües Tortes: Rebecca Horn & Jannis Kounellis, Pelaires Centre Cultural Contemporani, Palma di Mallorca, ES 
Spuren der Sonne – Eine Apokalyptische Oper – Werner Herzog Jannis Kounellis Markus, Selg, b-05 Kunst- und Kulturzentrum, Montabaur, DE 

6th International Art Biennale, SIART-BOLIVIA 2009, La Paz, BO


Cella: Strutture di emarginazione e disciplinamento, Complesso Monumentale di San Michele a Ripa, Ex Casa di Correzione di Carlo Fontana, Rome, IT 
Barock, MADRE Museo d'Arte Contemporanea Donnaregina, Naples, IT 
The Sum of its Parts, Cheim & Read, New York, US
Omaggio a Toti Scialoja, Galleria Il Segno, Rome, IT 
Collection Lambert: Voyage à Rome, Villa Medici, Rome, IT 
En perspective, Giacometti, Musée des Beaux-Arts, Caen, FR 
2008 Biennale of Sydney: Revolutions-forms that turn, Sydney, AU 
L'enigma del vero: Percorsi del realismo in Italia 1870-1980, Galleria Civica di Palazzo Loffredo, Potenza, IT 
Sound Time Material, Château des Adhémar, Montélimar, FR
Il disegno: Tra visione e progetto, Oredaria Arti Contemporanee, Rome, IT 
Cose (quasi) mai viste, Centro Luigi di Sarro, Rome, IT
Luce di Pietra, Palazzo Farnese, Chiesa di San Luigi dei Francesi, Chiesa di San Nicola dei Lorenesi, Villa Medici, Rome, IT
Arte povera: Anselmo, Kounellis, Merz, Penone, Konrad Fischer Galerie, Düsseldorf, DE
Nel Formare 1: Bizhan Bassiri Jannis Kounellis Hidetoshi Nagasawa, Galleria Maria Grazia Del Prete, Rome, IT
Frammenti dell'Arte Povera: Jannis Kounellis und Mario Merz in der Sammlung Speck, MMKK Museum Moderner Kunst Kärnten, Klagenfurt, AT
Jannis Kounellis Michele Zaza, Chiesa del Luogo Pio, Livorno, IT
I am as you will be, Cheim & Read, New York, US (cat)
Lo spazio e la misura: Universitas Artis, Università LUISS Guido Carli, Rome, IT (cat)
Where Are We Going?, Opere scelte dalla Collezione François Pinault, Palazzo Grassi, Venice, IT (cat)
Odyssey: Greek Art from the last fifty years, Galerie Gmurzynska, Zurich, CH

Between a rock and a hard place, Kenny Schachter Rove, London, UK

XII Biennale Internazionale di Scultura di Carrara: Una Biennale per il Museo. La contemporaneità dell'arte. Alveare, Museo della Scultura, Carrara, IT
Corrispondenze. Dal presente al passato, Spazio Collezione, Centro per l'Arte Contemporanea Luigi Pecci, Prato, IT

Heads, Pescali & Sprovieri, London, UK

Di-segni, Studio Trisorio, Naples, IT; Rome IT
La litografia e la serigrafia, Istituto Nazionale per la Grafica, Palazzo Fontana di Trevi, Rome, IT
Nero, Galleria Cardi, Milan, IT
Jimmie Durham Jannis Kounellis: Deposizione, RAM – radioartemobile, Rome, IT

Dedica, 1986-2006: 20 anni della Galleria Alfonso Artiaco, PAN Palazzo delle Arti, Naples, IT 
Italian Art 1950-1970: Masterpieces from the Farnesina Collection, National Gallery of Modern Art, New Delhi, IN
Arte Povera, Toyota Municipal Museum of Art, Toyota, JP
Da Rembrandt a Kounellis, Istituto Nazionale per la Grafica, Palazzo Fontana di Trevi, Rome, IT
Visioni: 20 artisti a Sant'Agostino, Ex Chiesa di Sant'Agostino, Bergamo, IT
Sul filo della lana, Chiostro di San Sebastiano Museo del Territorio Biellese, Biella, IT 
Atto Primo, MADRE Museo d'Arte Contemporanea Donnaregina, Naples, IT
Segnali italiani dalla Collezione d'Arte Contemporanea alla Farnesina, Galleria dell'Accademia serba delle Scienze e delle Arti, Belgrade, RS 
Donna Donne, Palazzo Strozzi, Florence, IT 
Acqua, Aria, Terra, Fuoco, Palazzo della Borsa, Genoa, IT 
Burri, gli artisti e la materia, Scuderie del Quirinale, Rome, IT
Collection Automne/Hiver, capcMusée d'art contemporain, Bordeaux, FR
Camere: Sol Lewitt Jannis Kounellis Franz West, RAM – radioartemobile, Rome, IT
Atto Secondo: La Collezione, MADRE Museo d'Arte Contemporanea Donnaregina, Naples, IT

Strade di Roma, Casa delle Letterature, Villa Poniatowski, Rome, IT
Sonde. Pistoia. Dieci anni con gli artisti a Palazzo Fabroni. Riflessioni, Palazzo Fabroni, Pistoia, IT 
Magdalena Jetelová e Jannis Kounellis omaggio a Heiner Müller: Il buco nella rete, Opera Paese, Roma, IT 
L'Europa nella Grafica del '900, Istituto Nazionale per la Grafica, Palazzo Fontana di Trevi, Rome, IT
Aspetti dell'arte concettuale, Artemisia Arte Contemporanea, Falconara Marittima, IT
Soltanto un quadro al massimo: Kounellis-Immendorff, Accademia Tedesca in Roma Villa Massimo, Rome, IT
Da Balla alla Transavanguardia, Cento anni di Arte Italiana alla Farnesina, La Triennale di Milano, Milan, IT 
Trait-d'union, CAMeC Centro di Arte Moderna e Contemporanea della Spezia, La Spezia, IT
Capricci, Ex Pinacoteca Comunale, Assisi, IT 
Joseph Kosuth "Located world, La Marrana"e Jannis Kounellis "Senza titolo, La Marrana",  La Marrana Arteambientale, Montemarcello – Ameglia, La Spezia, IT 
Intra-muros, Musée d'Art Moderne et d'Art Contemporain, Nizza, Paris, FR 
Ma l'amore no: Ricordando Lucio, Mimmo Scognamiglio, Naples, IT

L'élementaire, le vital, l'énergie: Arte Povera in Castello, Chateau de Villeneuve, Vence, FR
Transcultures, Megaron – The Athens Concert Hall, Athens, GR 
Omaggio a Plinio, Istituto Nazionale per La Grafica, Palazzo Fontana di Trevi, Rome, IT

Riflessi nell'arte, Mole Vanvitelliana, Ancona, IT
Forme per il David: Baselitz, Fabro, Kounellis, Morris, Struth, Galleria dell'Accademia, Florence, IT
I misteri di Roma, Casa delle Letterature e Galleria Nazionale d'Arte Moderna, Rome, IT
I giochi Olimpici: Cinque anelli di competizione sportiva, solidarietà cultura, speranza e pace, Palazzo Reale, Sala Dorica, Naples, IT 
Le collezioni: arte contemporanea per l'Istituto Nazionale per la Grafica, Istituto Nazionale per La Grafica, Calcografia, Palazzo Fontana di Trevi, Rome, IT 
Una piazza per Leonardo: Cinque progetti per il nuovo ingresso del museo leonardiano, Museo Leonardiano, Palazzina Uzielli, Vinci, IT
Pegadas de Luz, Centro Galego de Arte Contemporanea, Santiago de Compostela, ES
In den Schluchten des Balkan, Kunsthalle Fridericianum, Kassel, DE
Grazie Historie Landschaft, Schloss Dyck, Jüchen, DE
La poetica del'Arte Povera, Kunstmuseum Kloster Unser Lieben Frauen, Magdeburg, DE 
Incontri….Dalla collezione di Graziella Lonardi Buontempo, Villa Medici, Rome, IT 
Luoghi d'affezione: Paesaggio-passaggio, Hotel de Ville, Brussels, BE
Outlook, International Art Exhibition – Athens 2003, Technopolis, Benaki Museum e "The Factory" Athens School of Fine Arts, Athens, GR 
ON, Galleria Xippas, Athens, GR
Futuro Italiano, Parlamento Europeo, Brussels, BE
Bassiri Kounellis West, Galleria Gentili, Montecatini Terme, IT

Music Mirrors History Conscience, Sarantopoulos Miles, Athens, GR
Vacanze Romane, Casa delle Letterature, Rome, IT

Grande segno decantato, Palazzo Ducale, Gubbio, IT
De Gustibus: Collezione privata Italia, Palazzo delle Papesse, Santa Maria della Scala, Siena, IT
A Short History of Performance: Part One, The Whitechapel Art Gallery, London, UK

Contrappunto: Rebecca Horn Jannis Kounellis, Galleria La Nuova Pesa, Rome, IT 
Exempla 2: Arte italiana nella vicenda europea 1960-2000, Pinacoteca Civica, Giardini Villa  Comunale, Largo San Matteo, Museo Archeologico, Piazza del Sole, Piazza Martiri della Libertà e Piazza San Francesco, Teramo, IT 
Grande Opera Italiana, Castel Sant'Elmo, Naples, IT
Kunst und Schock: Der 11. September und das Geheimnis des Anderen, Haus am Lützowplatz, Berlin, DE
From Pop to Now: Selections from the Sonnabend Collection, The Frances Young Tang Teaching Museum and Art Gallery at Skidmore College, Saratoga Springs, US
From Pop to Now: Selections from the Sonnabend Collection, Wexner Center for the Arts at Ohio State University, Columbus, US
From Pop to Now: Selections from the Sonnabend Collection, Milwaukee Art Museum, Milwaukee, US 
Decima Biennale d'Arte Sacra Contemporanea: Nel Segno della Luce, Museo Stauros d'arte sacra contemporanea e Santuario di San Gabriele, San Gabriele, Isola del Gran Sasso, IT

Artepovera: Art from Italy 1967-2002, Museum of Contemporary Art, Sydney, AU
XV Premio Biella per l'incisione 2002, Museo del Territorio Biellese, Biella, IT 
Ipotesi di Collezione, MACRO, Museo d'Arte Contemporanea Roma, Rome, IT

Arteinmemoria, Sinagoga e Campidoglio, Scavi di Ostia Antica e Centrale Montemartini, Rome, IT 
Les années 70: l'art en cause, capcMusée d'art contemporain, Bordeaux, FR
Arte contemporanea al Mandrione: Né Carne né pesce, Casa Pirri-Valentini, Rome, IT

Strategie della differenza: Arte contemporanea tra decostruzione e superamento, Museo Laboratorio di arte contemporanea, Università "La Sapienza", Rome, IT; travelled to Sala dei Templari, Molfetta, IT 
Attraversamento, Museo MIDA1, Pertosa, IT 
Incontri, Galleria Borghese, Rome, IT
Le stanze dell'Arte: Figure e immagini del XX secolo, Museo di Arte Moderna e Contemporanea di Trento e Rovereto, Rovereto, IT
Roma in blu, Casa delle Letterature, Rome, IT
1 Gennaio 2001, Emilio Luigi Ontani Jannis Kounellis Franz West, Zerynthia, Rome, IT
Bianchi Kounellis Paladino, Galleria No Code, Bologna, IT

Skrigets Ekko/Echoes of the Scream, Arken Museum for Moderne Kunst, Ishoj, DK; travelled to Munch Museet, Oslo, NO
Odissee dell'Arte, Civico Museo Revoltella, Trieste, IT
Il segno della Croce, Museo dei Materiali Minimi di Arte Contemporanea, Paestum, IT
Le Tribù dell'Arte, Galleria Comunale d'Arte Moderna e Contemporanea, Rome, IT (cat)
Artisti Italiani del XX secolo alla Farnesina, Collezione, Ministero degli Affari Esteri, Rome, IT
A.B.O. Le arti della critica, Palazzo Bice Piacentini – Palazzina Azzurra, San Benedetto del Tronto, IT

Tesori nascosti, Museo del Corso, Rome, IT

Zero to Infinity: Arte Povera 1962-1972, Tate Modern, London, UK
Zero to Infinity: Arte Povera 1962-1972, Walker Art Center, Minneapolis,US
Zero to Infinity: Arte Povera 1962-1972, MOCA at the Geffen Contemporary, Los Angeles, US
Zero to Infinity: Arte Povera 1962-1972, Hirshhorn Museum and Sculpture Garden, Washington, D.C.,US
Jannis Kounellis Giorgio Morandi, Sprovieri, London, UK
Marzona Villa Manin: Una collezione d'arte, Villa Manin di Passariano, Codroipo, IT
Presenze Italiane, Palazzo Ducale di Sassuolo, Sassuolo, IT
Arte all'Arte 01: Arte Architettura Paesaggio. VI edizione, a cura dell'Associazione Arte Continua, Montalcino, IT
Una storia dell'arte in Italia nel XX secolo, Museum of Contemporary Art, Tokyo, JP
arte povera: Selections from the Sonnabend Collection, Miriam and Ira D. Wallach Art Gallery, Columbia University in the City of New York, New York, US
I Bulla: Editori stampatori d'arte tra XIX e XX secolo, Accademia Nazionale di San Luca, Rome, IT 
A Tribute to Robert Hopper, Yorkshire Sculpture Park, West Bretton, Wakefield, UK

Castelli in aria: Arte a Napoli di fine millennio, Castel Sant'Elmo, Naples, IT

Tirannicidi, Calcografia Nazionale, Rome, IT 
Akropolis: Catarsi dell'arte contemporanea, Teatro Comunale Fraschini, Pavia, IT
E Così Via (And so on): 99 artisti della Collezione Marzona, Galleria Comunale d'Arte Moderna e Contemporanea, Rome, IT
E Così Via (And so on): 99 artisti della Collezione Garzona, travelled to Kunstverein, Ludwigsburg, DE
E Così Via (And so on): 99 artisti della Collezione Marzona, Kunsthalle, Bielefeld, DE 
Verso Sud, Palazzo Doria Pamphilj, Valmontone
Sembianti della Scultura, Palazzo Stella, Crespellano, Bologna, IT 
Anima, Monastero delle Lucrezie, Todi, IT 
Tuttovolume!, Riserva Naturale dello Stato, Pineta Sud di Santa Filomena, Montesilvano, IT

Mitici Sessanta: Aspetti della ricerca, Complesso Monumentale del San Giovanni, Catanzaro, IT 
Da Warhol al 2000: Gian Enzo Sperone. 35 anni di mostre fra Europa e America, Palazzo Cavour, Turin, IT

Hommage à la Sculpture, Gerhard Marcks-Haus, Brema, DE

Domenico Bianchi Jannis Kounellis, Scognamiglio & Teano, Naples, IT

Galerie Karsten Greve, Cologne, DE


Giganti: Arte Contemporanea nei Fori Imperiali, Scavi dei Fori Imperiali, Rome, IT
Luci in Galleria: Da Warhol al 2000, Gian Enzo Sperone. 35 anni di mostre fra Europa e America, Palazzo Cavour, Turin, IT 
Il Parco di scultura di Villa Glori, Parco di Villa Glori, Rome, IT
Anselmo Merz Penone Kounellis Laib, Galerie Konrad Fischer, Düsseldorf, DE

Terrae Motus: La collezione Amelio alla Reggia di Caserta, Reggia di Caserta, Caserta, IT
Del Futurismo al Laser: L'aventura italiana de la materia, Palau de la Virreina, Barcelona, ES
Del Futurismo al Laser: L'aventura italiana de la materia, Kunstforum in der GrundkreditBank, Berlin, DE 
Arte povera in collezione, Castello di Rivoli, Museo d'Arte Contemporanea, Rivoli, IT 
Novecento: Arte e Storia in Italia, Scuderie Papali del Quirinale, Mercati di Traiano, Rome, IT 
Wall Works, Museum Villa Stuck, MC

Wall Works, Edition Shellman and Paula Cooper Gallery, New York, US
Il dono Liverani, Calcografia, Rome, IT

La Casa del Poeta, Fabio Sargentini, Associazione Culturale L'Attico, Rome, IT

Examining Pictures: Exhibiting paintings, Whitechapel Art Gallery, London, UK
Examining Pictures: Exhibiting paintings, Museum of Contemporary Art, Chicago, US
The Collection, Stedelijk Museum voor Actuele Kunst, Ghent, BE
Domenico Bianchi Gunther Förg Jannis Kounellis Mimmo Paladino David Salle, Scognamiglio & Teano, Naples, IT
Collections parallèles, capcMusée d'art contemporain, Bordeaux, FR
Spore: Arti contemporanee nel transito epocale, Zona Archeologica, Facoltà di Ingegneria, Casa Longo, Piazza S. Gregorio, Villa Comunale, Cassino, IT
Moderno Estremo, Palazzo Vitari, Rende, IT
Circa 1968, Museu de Arte Contemporanea de Serralves, Porto, PT
 Wort und Weise: Exemplarisches aus der Sammlung Reiner Speck, Georgenbau des Dresdner Schlosses e Gemäldegalerie Neue Meister im Albertinum, Dresden
The Kiasma Collection, Kiasma, The Museum of Contemporary Art, Helsinki, FI

Exhibition of the Collection, International Cultural Project, Museum of Contemporary Art, Skenderija Center, Sarajevo, BA 
Viaggiatori sulla Flaminia, Bevagna, Montefalco, Trevi, Campello sul Clitunno, Spoleto, IT

Kounellis Paladino Bianchi, Galleria Christian Stein, Milan, IT
Gesammelte Werke 1: Zeitgenössische Kunst seit 1968, Kunstmuseum, Wolfsburg, DE
Regarding Beauty: A View of the Late Twentieth Century, Hirshhorn Museum and Sculpture Garden, Washington, US
Regarding Beauty: A View of the Late Twentieth Century, Haus der Kunst, MC

Bereshit I° "La piccola porta", En Plein Air Arte Contemporanea, Pinerolo, FR
Minimalia: An Italian Vision in 20th Century Art, P.S.1 Contemporary Art Center, Long Island City, New York, US
Open, Sammlung Essl, Kunst der Gegenwart, Klosterneuburg,Vienna, AT

Teatro Botanico: La natura dell'arte nel XX secolo, Museo Civico di Castello Ursino, Catania, IT
L'ultimo disegno del 1999, Zerynthia, Rome, IT
Art in the 20th Century: Collection from the Stedelijk Museum Amsterdam, Ho-Am Art Museum, Seoul, KR
Der Körper der Skulptur 1948-1998, Christine König & Franziska Lettner Galerie, Vienna, AT
Gronningen 1998, Palazzo Charlottenborg, Copenhagen, DK
Out of Actions: Between Performance and the Object, 1949-1979, The Geffen Contemporary at MOCA, Los Angeles, US
Out of Actions: Between Performance and the Object, 1949-1979, MAK, Österreichisches Museum für angewandte Kunst, Vienna, AT
Out of Actions: Between Performance and the Object, 1949-1979, Museu d'Art Contemporani MACBA, Barcelona, ES
Out of Actions: Between Performance and the Object, 1949-1979, Museum of Contemporary Art, Tokyo, JP
Wounds: Between democracy and redemption in contemporary art, Moderna Museet, Stockholm, SE
Tuning up 5, Kunstmuseum Wolfsburg, Wolfsburg, DE
Artecittà: 11 Artisti per il Passante Ferroviario di Torino, Galleria Civica d'Arte Moderna e Contemporanea, Turin, IT
Frecce, Fabio Sargentini, Associazione Culturale L'Attico, Rome, IT
Au Rendez-vous des Amis: Identità e Opera, Centro per l'Arte Contemporanea Luigi Pecci, Prato, IT 
Bandiere di Maggio, Piazza del Plebiscito, Naples, IT
Kunst, verbaut, Künstlerhaus, Vienna, AT 
artranspennine98, Henry Moore Studio at Dean Clough, Halifax and other locations in Liverpool, Manchester, Leeds, Hull, UK
Collezione Permanente, Centro per l'Arte Contemporanea Luigi Pecci, Prato, IT
Adieu, ex Chiesa di San Giovanni degli Almadiani, Viterbo
Per il clima felice degli anni '60, Castelluccio di Pienza – La Foce, IT; travelled to Archivio della Scuola Romana, Rome, IT
Everything of value…, Gorcums Museum, Gorinchem e Slot Loevenstein, Poederoijen, NL
Breaking Ground, Marian Goodman Gallery, New York, US
Rendezvous: Masterpieces from the Centre Georges Pompidou and the Guggenheim Museums, Solomon R. Guggenheim Museum, New York, US
Staat van Ervaring/State of Experience, Stedelijk Museum, Amsterdam, NL
Itinere. 1, Palazzo delle Papesse, Contemporary Art Center, Siena, IT
Voci 1958 Roma 1968, Studio Sotis, Rome, IT
20 mostre a La Salita dal 1960 al 1978, Spazio per l'arte contemporanea Tor Bella Monaca, Rome, IT; travelled to Galleria Comunale d'Arte, Faenza, IT
Domenico Bianchi Jannis Kounellis, Galleria Ugo Ferranti, Rome, IT
Bianchi Kounellis, Foyer del Teatro Regio, Turin, IT
For Heiner Müller, Centro de Exposiçoes, Galeria das Caravelas, Centro Cultural de Belém, Lisbon, PT 
Magie der Zahl in der Kunst des 20: Jahrhunderts, Staatsgalerie, Stuttgart, DE
Love Hotel: A National Gallery of Australia, Brisbane City Gallery, Brisbane, AU
Love Hotel: A National Gallery of Australia, Auckland Art Gallery, Auckland, NZ
Love Hotel: A National Gallery of Australia, The John Curtin Gallery, Curtin University of Technology, Perth, AU
Trash: Quando i rifiuti diventano Arte, Palazzo delle Albere, Trento e Archivio del '900, Rovereto, IT
Opera Formosa, The Soros Center for Contemporary Art Gallery at the University of Kyiv-Mohyla Academy, Kiev, UA
Che cosa sono le nuvole?, Palazzo Re Rabaudengo per l'Arte Contemporanea, Guarene, IT
Inaugurazione del Centro per la Scultura Contemporanea, Torre Martiniana, Cagli, IT
Jannis Kounellis Gregorio Botta, A.A.M./Architettura Arte Moderna, Rome, IT
Collection Works: Merz Paolini Kounellis, Gallery Takagi, Nagoya, JP

Guggenheim Museum, Bilbao, PT

Contemporary Art in Transition: From the Collection of the Ho-Am Art Museum, Ho-Am Art Gallery, Seoul, KR
Maxwell's Demon, Margo Leavin Gallery, Los Angeles, US
Donald Judd Jannis Kounellis Arnulf Rainer, Stedelijk Museum, Amsterdam, NL
Arte Italiana 1945-1995. Il visibile e l'invisibile, Aichi Prefectural Museum of Art, Nagoya, JP
Arte Italiana 1945-1995. Il visibile e l'invisibile, travelled to Museum of Contemporary Art, Tokyo, JP
Arte Italiana 1945-1995. Il visibile e l'invisibile, Yonago City Museum of Art, Tottori, JP
Arte Italiana 1945-1995. Il visibile e l'invisibile, Hiroshima City Museum of  Contemporary Art, Hiroshima, JP
Erstbezug, Galerie der Gegenwart, Hamburger Kunsthalle, Hamburg, DE 
Balthus bis Warhol, Albertina Temporar im Akademiehof, Vienna, AT 
Arte Italiana: Ultimi quarant'anni. Materiali anomali, Galleria d'Arte Moderna, Bologna, IT 
Notfalls leben wir auch ohne Herz, Exemplarisches aus der Sammlung Speck, Kunsthalle, Vienna, AT 
VIA CRUCIS – Das Kreuz in der Kunst der Gegenwart, Dominikaner-Forum des Dominkanermuseums Rottweils, Zweigmuseum des Wüttenbergischen Landesnmuseums Stuttgart, Rottweil, DE
Città Natura, Mercati di Traiano, Palazzo delle Esposizioni e altre sedi, Rome, IT 
Die Epoche der Moderne Kunst im 20: Jahrhundert, Martin-Gropius-Bau, Berlin, DE 
De Re Metallica, Anthony d'Offay Gallery, London, UK
Minimalia: Da Giacomo Balla a…, Palazzo Querini Dubois, Venice, IT; travelled to Palazzo delle Esposizioni, Rome, IT 
Light: Sichtbares und vorgestelltes in der Kunst seit 1960, Salzlager Hall, Kunsthalle Tirol, Hall i. Tirol, AT 
Arte Povera: Arbeiten und Dokumente aus der Sammlung Goetz 1958 bis heute, Neues Museum Weserburg, Brema, DE; travelled to Kunsthalle,Nuremberg, DE; Kölnischer Kunstverein, Cologne, DE; Museum moderner Kunst Stiftung Ludwig, Vienna, AT; Konsthallen, Gothenburg, SE; Sammlung Goetz, MC
Varcare la soglia, Villa Glori, Rome, IT
Disegni a mano libera, Opera Paese, Rome, IT
Dadaismo dadaismi: Da Duchamp a Warhol, Palazzo Forti, Verona, IT
L'Arte del XX secolo: Dalla collezione dello Stedelijk Museum di Amsterdam, Castello Ursino, Catania, IT
Arte Povera e dintorni, Palazzo Crepadona, Belluno e Galleria Civica, Cortina d'Ampezzo, IT
Love Hotel: A National Gallery of Australia, Plimsoll Gallery, University of Tasmania, Hobart, AU
Love Hotel: A National Gallery of Australia, Australian Centre for Contemporary Art, Melbourne, AU
Everything that's interesting is new: The Dakis Jannou Collection, Athens School of Fine Arts "the factory", Athens, GR
Munch en na Munch, Stedelijk Museum, Amsterdam, NL; travelled to Munch Museet, Oslo, NO
Domenico Bianchi Jannis Kounellis Jaume Plensa, Scognamiglio & Teano, Agenzia d'Arte Moderna, Naples, IT
Portrait of the artist, Anthony d'Offay Gallery, London, UK
Tempo e Forma nell'arte contemporanea, Parco Archeologico, Teatro, a cura della Facoltà Di Ingegneria dell'Univerità degli Studi di Cassino, Cassino, IT
Recaptured Nature, Marian Goodman Gallery, New York, US
Vetrophanie, Palazzo Ducale, Colorno, IT
Art Summit, Fortezza da Basso, Florence, IT
Ars Aevi 2000, Centro per l'Arte Contemporanea Luigi Pecci, Prato, IT 
Tuscia Electa. 14 artisti internazionali in Toscana, Greve in Chianti, IT 

Hamburger Bahnhof – Museum für Gegenwart, Berlin, DE 

Hamburger Bahnhof – Museum für Gegenwart, Berlin, DE 

Qui Arte Contemporanea: Trenta Anni, Galleria Edieuropa "QUI arte contemporanea", Rome, IT 
Qui Arte Contemporanea: Trenta Anni, Galleria Edieuropa "QUI arte contemporanea", Rome, IT 
Prospettiva del passato: Da Van Gogh ai contemporanei nelle raccolte dello Stedelijk Museum  di Amsterdam, Museo di Capodimonte, Naples, IT 
Wild at Heart: Kounellis Penone Plensa Spitzer. Works made for the Henry Moore Sculpture Trust, Tramway, Glasgow, UK
Konversionen, Städtischen Galerie Altes Theater Ravensburg, Ravensburg, DE
Where is Abel thy brother?, National Gallery of Contemporary Art Zacheta, Varsavia, PO 
Tuning up no. 3, Kunstmuseum Wolfsburg, Wolfsburg, DE 
Ad Usum Fabricae, Chiesa di S. Domenico e Museo Sperimentale d'Arte Contemporanea, L'Aquila, IT
Duck Not On A Pond, Ganders Never Laid A Golden Egg, Rochdale Canal, Central Manchester, UK
Contemplation, Ho-Am Art Museum, Seoul, KR
Revolution: Art of the Sixties from Warhol to Beuys, Museum of Contemporary Art, Tokyo, JP
Georg Baselitz Francesco Clemente Jannis Kounellis, Galerie Volker Diehl, Berlin-Charlottenburg, DE
Palast der Künste 1995, Kolumba, Erzbischöfliches Diözesanmuseum, Kölnischer Kunstverein, Cologne, DE
4th International Istanbul Biennial, St. Irene, Istanbul, TR
Main Stations, Casino Luxembourg, LU
Figure – Image, Galerie Lelong, Zurich, CH
L'escultura. Creacions Paral-leles. Metàfores del real, Museu d'Art Contemporani de Barcelona, Barcelona, ES
Artists' choice, American Academy in Rome, Rome, IT
Scelte, Galleria dell'Oca, Rome, IT
Italiana: From Arte Povera to Transavanguardia, NICAF '94, Yokohama, JP (cat)
Künstler gegen die Folter, Kunsthaus, Zurich, CH
Arte contemporanea dalla Collezione della Federazione cooperative Migros, Museo Cantonale d'Arte, Lugano, AT
Allor si mosse e io li tenni dietro, Lucio Amelio s.r.l., Naples, IT
"Preferirei di no": Cinque stanze tra arte e depressione, Museo Correr, Venice, IT

Art Union Europe, Zappeion Hall, Athens, GR; travelled to Macedonian Museum of Contemporary Art, Salonicco, GR; New Castle, Corfu, GR

The Tradition of the New: Postwar Masterpieces from the Guggenheim Collection, Solomon R. Guggenheim Museum, New York, US

Zimmer in denen die Zeit nicht zählt, Museum für Gegenwartskunst, Basel, CH
Affinità: Cinque Artisti a San Gimignano, San Gimignano, IT
Giovanni Anselmo Jannis Kounellis Juan Muñoz Thomas Schütte, Jean Bernier Gallery, Athens, GR
Züge Züge: Die Eisenbahn in der zeitgenössischen Kunst, Städtische Galerie, Göppingen, DE 

L'incanto e la trascendenza, Castel Ivano, Ivano Fracena, Trento, IT

Dono, Galleria Schema, Florence, IT
"Sao ko kelle terre", Collezione Longo, Cassino, IT 
The Italian Metamorphosis, 1943-1968, Solomon R. Guggenheim Museum, New York, US

Galerie Pietro Spartà, Chagny, FR

Lavori Nuovi: Domenico Bianchi Christian Boltanski Jannis Kounellis, Galleria Ugo Ferranti, Rome, IT
L'Orizzonte: La Collezione, Castello di Rivoli Museo d'arte Contemporanea, Rivoli, IT
Sculptures & Reliefs, Akira Ikeda Gallery, Nagoya, JP 
Coleccion Fundacion Arco, Antiguo deposito de aguas, Vitoria, ES 
Arca de Noé/Noah's Ark, Fundaçao de Serralves, Porto, PT
Black and White, Galerie Lelong, New York, US
Black and White, Galerie Lelong, New York, US
La collection M.me Christian Stein, Centre Régional d'Art Contemporain Midi-Pyrénées, Labege-Innopole, FR

Gravity and Grace, Hayward Gallery, London

Feuer Erde Wasser Luft, Die vier Elemente, Deichtorhallen, Hamburg, DE
Richard Serra Jannis Kounellis, Akira Ikeda Gallery, New York, US
Trismegisto, Lucio Amelio s.r.l., Naples, IT

David Hammons Jannis Kounellis, American Academy in Rome, Rome, IT

XLV Biennale, Venice, IT 

The Sublime Void, Koninklijk Museum voor Schone Kunsten, Antwerp, DE
Utopia: Arte Italiana 1950-1993, Galerie Thaddaeus Ropac, Salzburg, DE
Le Jardin de la Vierge, Espace 251 Nord – Art Contemporain, Brussels, BE
I am you, Museum van Hedendaagse Kunst, Antwerp, DE; travelled to Salzburger Kunstverein, Salzburg, DE; Ottignies e Louvain-la-Neuve, BE 
Peinture: Emblèmes et Références, capcMusée d'Art Contemporain, Bordeaux, FR 
Wiederstand: Denkbilder für die Zukunft, Haus der Kunst, MC
Allegories of Modernism: contemporary drawing, The Museum of Modern Art, New York, US 
Der gefrorene Leopard, Galerie Bernd Klüser, MC 
Reperti, Museu Nacional de Belas Artes Rio de Janeiro, Rio de Janeiro, BR
Platzverführung, Schwäbisch Gmünd, DE 
Art d'eco, 4th International Triennal Ecology of Art, Art Gallery, Maribor, SI 
La collection Christian Stein: Un regard sur l'art italien, Le Nouveau Musée/Institut d'art contemporain, Villeurbanne, FR
Configuraciones urbanas, Olimpiada Cultural, Barcelona, ES 
Brise-Soleil, Galerie Lelong, Zurich, DE
Territorium Artis, Kunst- und Ausstellungshalle der Bundesrepublik Deutschland, Bonn, DE 
Terrae Motus alla Reggia di Caserta, Palazzo Reale di Caserta, Caserta, IT 
Schwerpunkt Skulptur, Kaiser Wilhelm Museum, Krefeld, DE
Numinose in der aktuellen Kunst, Ludwig Forum für Internationale Kunst, Aachen, DE
Metropolis, Martin-Gropius-Bau, Berlin, DE 
Intersezioni: arte italiana negli anni '70 – '80, Galleria Mucsarnok, Budapest, HU
Arte Povera 1971 und 20 Jahre danach, Kunstverein, MC 
Metafore, Galleria dell'Oca, Rome, IT 
La sculpture contemporaine après 1970, Fondation Daniel Templon, Musée Temporaine, Fréjus, FR 
30 oeuvres du Fond National d'Art Contemporain à la Défense, Espace Art Défense, Galerie Art 4 et Galerie de l'Esplanade, Paris, FR 
Kounellis Nitsch, Galerie Christine König, Vienna, AT 
Berlin Paris Bar, Galerie Artcurial, Paris 
Portrait d'une collection d'art contemporain, Collection Stéphane et Georges Uhoda, Palais desBeaux-arts, Charleroi, BE
Territory of desire, Louver Gallery, New York, US
Anselmo Chamberlain Fabro Flavin, Judd Kounellis Long Merz Nauman, Steingladstone, New York, US
Jannis Kounellis Richard Long Mario Merz, Barbara Gladstone Gallery, New York, US
Jannis Kounellis Bruce Nauman Ulrich Rückriem Richard Serra Antoni Tapies, Donald Young Gallery, Chicago, US 
Affinities and Intuitions, The Art Institute of Chicago, Chicago, US
Sul tema ritratto, Galleria dell'Oca, Rome, IT 
Le Territoire de l'Art, Istitut des Hautes Etudes en Arts Plastique, Parigi e Musée Russe, Leningrado, RU 
Collection du Musée: Christian Boltanski, Daniel Buren, Gilbert&George, Jannis Kounellis, Sol LeWitt, Richard Long, Mario Merz, capcMusée d'art contemporain, Bordeaux, FR
Die Endlichkeit der Freiheit, Berlin 1990 – Ein Ausstellungsprojekt in Ost und West Berlin, Berlin, DE
Memoria del futuro, Museo Nacional Centro de Arte Reina Sofia, Madrid, ES
Vom Haben und vom Wollen, Staatsgalerie moderner Kunst, Monaco di Baviera, DE 
Roma Anni '60 – Al di là della pittura, Palazzo delle Esposizioni, Rome, IT
Italian Art in the Twentieth Century, The Royal Academy of Arts, London, UK
Verso l'Arte Povera: Momenti e aspetti degli anni Sessanta in Italia, Padiglione d'Arte Contemporanea, Milan, IT 
John Chamberlain, Lucio Fabro, Dan Flavin, Donald Judd, Jannis Kounellis, Mario Merz, Margo Leavin Gallery, Los Angeles, US

Bilderstreit: Widerspruch, Einheit und Fragment in der Kunst seit 1960, Museum Ludwig in den Rheinhallen der Kölner Messe, Cologne, DE 
Dalla Pop-Art in poi: La Collezione Sonnabend, Galleria Nazionale d'Arte Moderna, Rome, IT
Balkon mit Fächer, DuMont-Kunsthalle, Cologne, DE
Carl Andre, Joseph Beuys, Dan Flavin, Donald Judd, Jannis Kounellis, Sol Lewitt, Richard Long, Robert Mangold, Mario Merz, Bruce Nauman, Robert Ryman, Lawrence Weiner, Hallen für Neue Kunst, Sciaffusa, CH

Uit het leven – in de kunst, Museum van Hedendaagse Kunst, Antwerp, DE
Europa oggi: creazione contemporanea nell'europa occidentale, Museo d'Arte Contemporanea, Prato, IT 
Saturne en Europe, Ancienne Douane, Musée de l'Oeuvre Notre-Dame e Musée des Beaux-Arts, Strasbourg, AT
Accademia, Bonnefantenmuseum, Maastricht, NL
Anselmo, Bianchi, Boetti, Fabro, Kounellis, Paolini, Parmiggiani, Penone, Salvadori, Schütte, Zorio, Galleria Christian Stein, Milan, IT
Baselitz, Kounellis, Twombly, Galleria Lucio Amelio, Naples, IT
1988, Carnegie International, The Carnegie Museum of Art, Pittsburgh, US 
Köln sammelt: Zeitgenössische Kunst aus Kölner Privatbesitz, Museum Ludwig, Cologne, DE 
Charta: Dal papiro al computer, Palazzo Reale, Milan, DE
Kounellis, Serra, Tàpies, Jean Bernier Gallery, Athens, DE
Richard Artschwager, Dan Flavin, Donald Judd, Jannis Kounellis, Sol LeWitt, Richard Long,  Bruce Nauman, Ulrich Rückriem, Richard Serra, Donald Young Gallery, Chicago, US
Collection Sonnabend, capcMusée d'art contemporain, Bordeaux, FR
Carl Andre, Luciano Fabro, Jannis Kounellis, Richard Long, Mario Merz, 
Bruce Nauman, Lawrence Weiner, Galleria Christian Stein, Milan, IT
Positionen heutiger Kunst, Nationalgalerie, Berlin, DE
XLIII Biennale di Venezia: Esposizione Internazionale d'arte Il luogo degli artisti, Padiglione Italia, Venice, IT
Arte Povera 1965-1971, Galerie Liliane & Michel Durand-Dessert, Paris, FR
Terrae Motus. Naples: tremblement de terre, Grand Palais, Paris, FR 
L'époque, la mode, la morale, la passion, Musée National d'Art Moderne Centre Georges Pompidou, Paris, FR 
Arte Povera, Centre de Création Contemporaine, Tours, FR
Italie hors d'Italie, Musée des Beaux-Arts, Nîmes, FR 
Meltem, Chateau d'Oiron, Oiron, FR
From the Europe of old, Stedelijk Museum, Amsterdam, NL 
Joseph Beuys, Enzo Cucchi, Anselm Kiefer, Jannis Kounellis, Kunsthalle, Basel, CH 
Terrae Motus 2, Villa Campolieto, Hurculaneum, IT 
Falls the Shadow: Recent British and European Art. 1986 Hayward Annual, Hayward Gallery, London, UK 
Jannis Kounellis, Sol Lewitt, Richard Long, Bruce Nauman, Martin Puryear, Ulrich Rückriem, Donald Young Gallery, Chicago, US
Wien Fluss 1986, Wiener Secession & Am Steinhof – Theaterbau, Vienna, AT 
A Sculpture Show, Marian Goodman Gallery, New York, US

Ooghoogte/Eye level, Stedelijk Van Abbemuseum, Eindhoven, NL 
Chambres d'amis, Museum van Hedendaagse Kunst, Ghent, BE 
Que'est-ce que la sculpture moderne?, Musée national d'art moderne Centre Georges Pompidou, Paris, FR 
Joseph Beuys zu Ehren, Städtische Galerie im Lenbachhaus, MC 
Säulen, Galerie Jule Kewenig, Cologne, DE

Sol LeWitt, Jannis Kounellis, Galleria Mario Pieroni, Rome, IT

Fabro, Kounellis, Paolini, Galleria Lucio Amelio, Naples, IT
Sol LeWitt, Jannis Kounellis, Galleria Mario Pieroni, Rome, IT
Fabro, Kounellis, Paolini, Galleria Lucio Amelio, Naples, IT
Fideliter: Christian Stein 1966-1986, Galleria Christian Stein, Turin, IT
Del arte Povera a 1985, Palacio Velàzquez e Palacio de Cristal, Madrid, ES
The Iron Window, Stedelijk Van Abbemuseum, Eindhoven, NL
Nuovi lavori: Buren, Kounellis, LeWitt, Paolini, Galleria Ugo Ferranti, Rome, IT

1985 Carnegie International, Museum of Art, Carnegie Institute, Pittsburgh, US 
The Knot: Arte Povera at P.S.1, P.S.1, The Institute for Art and Urban Resources, Long Island, New York, US 
Dreißig Jahre durch die Kunst – Museum Haus Lange 1955-85, Museum, Haus Lange e Museum Haus Esters, Krefeld, DE
Don Giovanni: Een opera voor het oog, Stedelijk Van Abbemuseum, Eindhoven, NL
La Collection de Van Abbemuseum au Nouveau Musée, Le Nouveau Musée, Villeurbane, FR
Intorno al Flauto Magico, Palazzo della Permanente, Milan, IT 
Selections from the William J. Hokin Collection, Museum of Contemporary Art, Chicago, US
L'Oeil musicien, Palais des Beaux-Arts, Charleroi, BE
Raum Zeit Stille, Kölnischer Kunstverein, Cologne, DE 
Nouvelle Biennale de Paris, Grande Halle du Parc de la Villette, Paris, FR
7000 Eichen, Kunsthalle, Tübingen, DE 
The European Iceberg, Art Gallery of Ontario, Toronto, CA (cat)
Les vingt ans du Musée à travers sa collection, Musée d'Art Contemporain, Montréal, CA 
Confronti, Galleria Christian Stein, Turin, IT
Anselmo, Kounellis, Mario Merz, Marisa Merz, Paolini, Zorio, Galleria Christian Stein, Turin, IT

Het voorbeeld van de klassieken, Museum Boymans-van Beuningen, Rotterdam, NL 
Ouverture, Castello di Rivoli, Museo d'Arte Contemporanea, Rivoli, IT 
Kounellis, Paolini, Buren, Weiner, Kirkeby, DAAD Galerie, Berlin, DE

L'architecte est absent. Works from the collection of Annick and Anton Herbert, Stedelijk Van Abbemuseum, Eindhoven, NL 
Arbeiten zu Skulpturen, Galerie Schellmann & Klüser, MC
ROSC 84, The Guinness Hop Store, Dublin, IE 

XLI Biennale, Venice, IT 

Coerenza in Coerenza: dall'Arte Povera al 1984, Mole Antonelliana, Turin, IT
Skulptur im 20: Jahrhundert, Merian-Park, Basel, CH
Légendes, capcMusée d'art contemporain, Bordeaux, FR
Der Traum des Orpheus: Mythologie in der italienischen Gegenwartskunst 1967 bis 1984, Städtische Galerie im Lenbachhaus, MC

Internationale neue Kunst aus der Sammlung MGB. Erwerbungen, 1977- 1984, Kunsthaus, Zurich, CH

Sculptures italiennes, Galerie Lilian et Michel Durand-Dessert, Paris, FR
Carl Andre, Joseph Beuys, Dan Flavin, Donald Judd, Jannis Kounellis, Sol LeWitt, Richard Long, Robert Mangold, Mario Merz, Bruce Nauman, Robert Ryman and Lawrence Weiner, Hallen für neue Kunst, Schaffausen, CH 
Experiment Sammlung I: Une Collection Imaginaire, Kunstmuseum, Winterthur, CH
Il modo italiano, Frederick S. Wight Art Gallery, University of California, Los Angeles, US
Concetto-Imago: Generationswechsel in Italien, Bonner Kunstverein, Bonn, DE
Bücher Bilder Objekte aus der Sammlung Reiner Speck: To the Happy Few, Museum Haus Lange e Museum Haus Esters, Krefeld, DE 
Anselmo, Kounellis, Merz, Galleria Christian Stein, Turin, IT

New Art at the Tate Gallery 1983, Tate Gallery, London, UK
Eine Kunst-Geschichte in Turin 1965-1983, Kölnischer Kunstverein, Cologne, DE
ARS 83, Ateneum Art Museum, Helsinki, FI
Sammlung Helga und Walter Lauffs im Kaiser Wilhelm Museum Krefeld, Kaiser Wilhelm Museum, Krefeld, DE 
The Sculpture Show, Hayward Gallery and Serpentine Gallery, London, UK 
L'avanguardia plural: Italia 1960-70, Pescara, IT 
Arte Povera, Antiform, capc Musèe d'art contemporain, Bordeaux, FR
'60-'80: Attitudes/concepts/images, Stedelijk Museum, Amsterdam, NL
"The Italians". From arte povera to transavanguardia, Marianne Deson Gallery, Chicago, US
Mise en scéne, Kunsthalle, Berne, CH

Forma senza forma, Galleria Civica, Modena, IT
Kiefer, Kounellis, Merz, Galleria Christian Stein, Turin, IT


Galerie Konrad Fischer, Düsseldorf, DE

Werke aus der Sammlung Crex, Kunsthalle, Basel, CH
Kunst wird Material, Nationalgalerie, Berlin, DE 
Choix pour Aujourd'hui, Musée National d'Art Moderne, Centre Georges Pompidou, Paris, FR 
Documenta 7, Kassel, DE 
Zeitgeist, Martin-Gropius-Bau, Berlin, DE(cat)

Arte Italiana, Institute of Contemporary Arts and Hayward Gallery, London, UK 
Spelt from Sibyl's Leaves: Explorations in Italian Art, Power Gallery, University of Sydney, University Art Museum, University of Quennsland, Brisbane, AU 
30 anni d'arte italiana 1950-1980, Villa Manzoni, Lecco, IT
A New Spirit in Painting, Royal Academy of Arts, London, UK
Linee della ricerca artistica in Italia 1960-1980, Palazzo delle Esposizioni, Rome, IT
Che fare? Kounellis, Merz, Nauman, Serra, Museum Haus Lange, Krefeld, DE
Westkunst, Rheinhallen, Messegelände, Cologne, DE 
Italians and American Italians, Crown Point Gallery, Oakland, US 
Baselitz, Kounellis, Paolini, Penck, Galleria Christian Stein, Turin, IT
Identité italienne: L'art en Italie de 1959 à aujourd'hui, Musée National d'Art Moderne, Centre Georges Pompidou, Paris, FR 
Il limite svelato, Artista Cornice Pubblico, Mole Antonelliana, Turin, IT
Fabro, Kounellis, Merz, Paolini. Materialien zu einer Ausstellung, Kunsthalle, Berna, CH 
Kunst in Europa na '68, Museum Van Hedendaagse Kunst, Citadelpark e Centrum voor Kunst en Cultuur St. Pietersplein, Ghent, BE 
Zeichnungen der 50er bis 70er Jahre: Graphische Sammlung und Sammlung Helga und Walter Lauffs, Kaiser Wilhelm Museum, Krefeld, DE 
Wendepunkt: Kunst in Europa um 1960, Museum Haus Lange, Krefeld, DE (cat)

Arte e critica 1980, Galleria Nazionale d'Arte Moderna, Rome, IT (cat)

T60-80: Vent'anni di ricerche teatrali in Italia, Palazzo delle Esposizioni, Rome, IT (cat)

Incontri 1980: 20 installazioni di artisti contemporanei a Spoleto, XXIII Festival dei due Mondi, Spoleto, IT (cat)

Cento anni d'arte italiana moderna 1880-1980, Istituto Italiano di Cultura, Tokyo, JP (cat)
Fabro, Kounellis, Merz, Paolini, Galleria Christian Stein, Turin, IT
XXXIX Biennale, Venice, IT (cat)
Die Erweiterung des Wirklichkeitsbegriffs in der Kunst der 60er und 70er Jahre – Wahrnehmungen, Aufzeichnungen, Mitteilungen, Museum Haus Lange, Krefeld, DE 
Fabro, Kounellis, Merz, Paolini, Galleria Salvatore Ala, Milan, IT

Artemisia, Galerie Yvon Lambert, Paris, FR; travelled to Galleria Ugo Ferranti, Rome, IT 
Gino De Dominicis, Jannis Kounellis, Ettore Spalletti, Galleria Mario Pieroni, Rome, IT
Per una politica della forma: Calzolari, Mario Merz, Kounellis, Galleria Mario Diacono, Bologna, IT
Perimetri, Incontri Internazionali d'Arte, Rome, IT 
XXXVIII Biennale, Venice, IT 
A.R. Penck, Robert Ryman, Sol LeWitt, Jannis Kounellis, InK. Halle für internationale neue Kunst, Zurich, CH 
Poetische Aufklärung in der europäischen Kunst der Gegenwart bei Joseph Beuys, Marcel Broodthaers, Daniel Buren, Jannis Kounellis, Mario Merz, Gerhard Richter, Geschichte von heute und morgen, InK. Halle für Internationale neue Kunst, Zurich, CH
Werke aus der Sammlung Crex, InK. Halle für internationale neue Kunst, Zurich, CH
Werke aus der Sammlung Crex, Louisiana Museet, Humlebaek, DK
Werke aus der Sammlung Crex, Städtische Galerie im Lenbachhaus, MC
Werke aus der Sammlung Crex, Stedelijk van Abbemuseum, Eindhoven, NL
Werke aus der Sammlung Crex, Kunsthalle, Basel, CH 
Omaggio a Brunelleschi, Chiostro di Santa Maria Novella, Florence, IT
Beuys, Kounellis, Lee Byars, Sperone Westwater Fischer, New York, US

Arte in Italia 1960-1977: Dall'opera al coinvolgimento, Galleria Civica d'Arte Moderna, Turin,  IT 
Festival of Celtic People: Joseph Beuys, Jannis Kounellis, Mario Merz, Marisa Merz,  Wrexham, UK
 Et sic in infinitum, Galleria Christian Stein, Turin, IT

Documenta 6, Kassel, DE 
Prospect Retrospect: Europa 1946-1976, Städtische Kunsthalle, Düsseldorf, DE 
Omaggio a Pascali, Galleria L'Attico, Rome, IT 
Qui Arte Contemporanea: Dieci anni, Galleria Qui Arte Contemporanea, Rome, IT 
XXXVII Biennale, Venice, IT 
Muvérszeti Torekvések Olaszorszàgbon, Szépmuvérszeti Mùseum, Budapest, HU
Fabro, Kounellis, Martelli, Nagasawa, Tonello, Trotta, Uncini, Galleria Christian Stein, Turin,  IT

Fabro, Kounellis, Martelli, Nagasawa, Tonello, Trotta, Uncini, Galleria Christian Stein, Turin,  IT

Eight Artists, Eight Attitudes, Eight Greeks, Institute of Contemporary Arts, London, UK 
Ghenos, Eros, Thanatos, Galleria de' Foscherari, Bologna, IT 
La ripetizione differente, Studio Marconi, Milan, IT 
Festival d'Automne: Aspects de l'art actuel, Musée Galliera, Paris, FR 
Arman, Cane, Christo, Kienholz, Kounellis, Tacchi, Musée d'Art Moderne, Strasbourg, AT 
Ada II: Aktionen der Avantgarde, Neuer Berliner Kunstverein, Berlin, DE 
An Exhibition of New Italian Art, The Arts Council of Northern Ireland Gallery, Belfast, IE 
Italy two: Art around '70, Museum of the Philadelphia Civic Center, Philadelphia, US 
X Quadriennale Nazionale d'Arte: La ricerca estetica dal 1960 al 1970, Palazzo delle Esposizioni, Rome, IT 
Contemporanea, Parcheggio di Villa Borghese, Rome, IT 
Opere della collezione privata Christian Stein, Galleria Christian Stein, Turin, IT

Galleria Lucio Amelio, Naples, IT


Tendencije 5, Galerija Suvremene Umetnosti, Zagabria, HR
Filmperformances, XV Festival dei due Mondi, Museo Civico, Spoleto, IT
Documenta 5: Befragung der Realität – Bildwelten heute, Kassel, DE 
Collectiva, Galleria L'Attico, Rome, IT

Chia, De Filippi, Fabro, Kounellis, Lombardo, Mattiacci, Notargiacomo, Paolini, V. Pisani, Galleria la Salita, Rome, IT


XXXVI Esposizione Biennale Internazionale D'Arte, Venice, IT 
Arte Povera: 13 italienische Künstler, Kunstverein, MC 
International Theatre Festival: Persona, Belgrade, RS; travelled to Zagabria, HR 

7° Biennale, Padiglione Italiano, Parc Floral de Paris, Bois de Vincennes, Paris, FR 

Giulio Paolini, Jannis Kounellis, Galleria Christian Stein, Turin, IT
III Biennale internazionale della giovane pittura: Gennaio70, Comportamenti, Progetti, Mediazioni, Museo Civico, Bologna, IT 
Between Man and Matter: Tokio Biennale '70, Metropolitan Art Gallery, Tokyo, JP
Between Man and Matter: Tokio Biennale '70, travelled to Municipal Art Museum, Kyoto, JP
Between Man and Matter: Tokio Biennale '70, Aichi Prefectural Art Gallery, Nagoya, JP
Between Man and Matter: Tokio Biennale '70, Prefectural Culture House, Fukuoka, JP 
Processi di pensiero visualizzati, Kunstmuseum, Lucerne, CH 
Arte e critica 70, Galleria della Sala di Cultura, Modena, IT 
Conceptual art Arte povera Land art, Galleria Civica d'Arte Moderna, Turin, IT 
Amore Mio, Palazzo Ricci, Montepulciano, IT 
Due decenni di eventi artistici in Italia 1950-1970, Palazzo Pretorio, Prato, IT 
Fine dell'alchimia – De Dominicis, Kounellis, Pisani, Galleria L'Attico, Rome, IT 
Vitaltà del negativo nell'arte italiana 1960-1970, Palazzo delle Esposizioni, Rome, IT
Op Losse Schroeven, Stedelijk Museum, Amsterdam, NL 
When Attitudes Become Form – Live in Your Head, Kunsthalle, Berna, CH
When Attitudes Become Form – Live in Your Head, travelled to Museum Haus Lange, Krefeld, DE
When Attitudes Become Form – Live in Your Head, Institute of Contemporary Arts, London, UK 
Festival International de la peinture, Chateau-Musée, Cagnes-sur-Mer, FR 
Prospect 69, Städtische Kunsthalle, Düsseldorf, DE

Verborgene Strukturen, Museum Folkwang, Essen, DE 
XXII Premio nazionale di pittura, Francavilla al Mare, IT 
Zwölf italienische Bildhauer, Kunstverein, Hamburg, DE 
VI Biennale di Paris, ARC/Musée d'art moderne de la ville de Paris, Paris, FR 
I materiali, Galleria Qui Arte Contemporanea, Rome, IT 
Quatre artistes italiens plus que nature, Musée des Arts Decoratifs, Paris 
Al di là della pittura, VIII Biennale di arte contemporanea, Palazzo Scolastico Gabrielli, San Benedetto del Tronto, IT
Arte povera + azioni povere, III Rassegna di Arti Figurative, Arsenali dell'Antica Repubblica,  Amalfi, IT
Arte Povera, Galleria de' Foscherari, Bologna, IT 
Young Italians, Institute of Contemporary Art, Boston, IT
Young Italians,travelled to Jewish Museum, New York, US 
Fabro, Kounellis, Paolini, Galleria Qui Arte Contemporanea, Rome, IT 
Arte Povera, Centro Arte Viva Feltrinelli, Trieste, IT 
Anselmo, Boetti, Kounellis, Galleria del Deposito (Gian Enzo Sperone), Turin, IT

Wspòlczesna Sztuka Wloska, Zacheta, Varsavia, PO; travelled to Galleria Nazionale d'Arte Moderna, Roma, IT 
Fünf römische Kunstler, Städtisches Museum, Wiesbaden, DE 
8 pittori romani, Galleria de' Foscherari, Bologna, IT 
Arte povera – Im spazio, Galleria La Bertesca, Genoa, IT 
V Biennale di Parigi, ARC/Musée d'art moderne de la ville de Paris, Paris 
Lo spazio degli elementi: Fuoco immagine acqua terra, Galleria l'Attico, Rome, IT 
La terza dimensione, Galleria Qui Arte Contemporanea, Rome, IT 
11 artisti italiani degli anni '60, Palazzo Ancaiani, Spoleto, IT 
Anselmo, Boetti, Calzolari, Kounellis, Mario Merz, Marisa Merz, Penone, Pistoletto, Zorio, Deposito di Arte Presente Spazio, Turin, IT
Situazione '67, Museo Sperimentale d'Arte Contemporanea, Galleria Civica d'Arte Moderna, Turin, IT 
Moderne Kunst aus Italien, Museum am Ostwall, Dortmund, DE

Aspetti dell'arte italiana contemporanea, Galleria Nazionale d'Arte Moderna, Rome, IT

Roma 1966, realtà dell'immagine, Galleria La Tartaruga, Rome, IT
L'art actuel en Italie, Casino Municipal, Cannes 
L'art actuel en Italie, Galleria Nazionale d'Arte Moderna, Rome, IT 
9 quadri e una scultura, Galleria La Tartaruga, Rome, IT
Realtà dell'immagine, Libreria Feltrinelli, Rome, IT 
V Rassegna d'Arti Figurative di Roma e del Lazio, Palazzo delle Esposizioni, Rome, IT 
Angeli, Bignardi, Festa, Fioroni, Kounellis, Lombardo, Mambor, Tacchi, Galleria La Tartaruga, Rome, IT

Mostra Mercato Nazionale d'Arte Contemporanea, Palazzo Strozzi, Florence, IT 
Schrift en Beeld, Stedelijk Museum, Amsterdam, NL; travelled to Staatliche Kunsthalle, Baden-Baden, DE 
13 pittori a Roma, Galleria La Tartaruga, Rome, IT 
IV Biennale San Marino, Palazzo del Kursaal, San Marino, SM 
Accardi, Castellani, Festa, Kounellis, Schifano, Galleria Notizie, Turin, IT
XII Premio Lissone, Lissone, IT
Kounellis, Rauschenberg, Schifano, Tinguely, Twombly, Galleria La Tartaruga, Rome, IT