Il Frantoio, Capalbio (GR)
30 maggio – 2 agosto 2009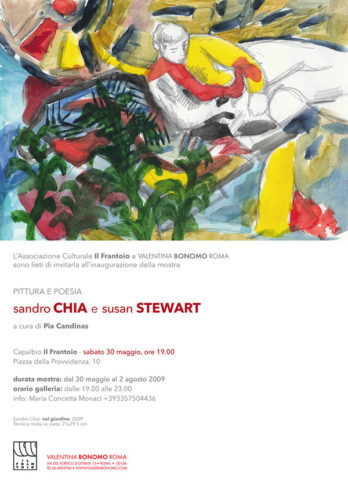 Da un progetto a cura di Pia Candinas, Sandro Chia dedica a questo luogo una mostra personale presentando opere su carta nuove insieme ai versi della poetessa americana Susan Stewart, tratti dal libro Red Rover (2008) con le traduzioni inedite di Maria Cristina Biggio.
Pittura e poesia: messaggeri che non a caso si incrociano in uno spazio intermedio, invisibile ma sentito. Mentre la parola di Susan Stewart è carica di immagini, la pittura di Sandro Chia nasce dalla singolarità di ogni parola; una specie di simultaneità che rivela una particolare affinità elettiva.
Sandro Chia è uno degli artisti italiani contemporanei più affermati a livello internazionale. Ha fatto parte della "Transavanguardia" fondata da Achille Bonito Oliva e ha esposto le sue opere dagli anni '70 in poi nella maggior parte dei musei e gallerie internazionali. Sandro Chia è stato selezionato alla 53° Biennale di Venezia, tra i rappresentanti del Padiglione Italia.
Susan Stewart, tra i più riconosciuti poeti americani e critico letterario, è vincitrice del prestigioso MacArthur prize; è anche Annan Professor al Dipartimento di inglese alla Princeton University dove insegna storia della poesia, estetica e filosofia della letteratura. Tra le sue numerose pubblicazioni, citiamo le raccolte poetiche più recenti: Columbarium (2003) per il quale ha avuto il "National Book Critics Circle Award", e Red Rover (2008), fonte di ispirazione di questa mostra. Dal 2005 è "Chancellor dell'Academy of American Poets" e membro del "American Academy of Arts and Sciences".